Once upon a time, Ghana was one of Africa's main hubs for poultry farming. Today, the country imports most of its chicken needs. Orange Corners Ghana graduate Yaa Asare wants to revitalise the local poultry industry. Through her innovative chicken products, she aims to create a year-round market for poultry farmers. Our travelling reporter spoke to Yaa during the West Africa Deal Summit, where she was part of the Ghanaian-Nigerian delegation pitching to high-level investors and investment funds.
Hi Yaa! For those of us who don't know you: who are you and what do you do?
My name is Yaa Aduba Asare and I'm the CEO of Naya Success Axis Farms. This is a poultry farm business that was born out of the need to reduce post-harvest losses. We process locally-raised chicken into a variety of products, such as grilled chicken or chicken chips. In this way, we add a longer shelf life to chicken processed in Ghana.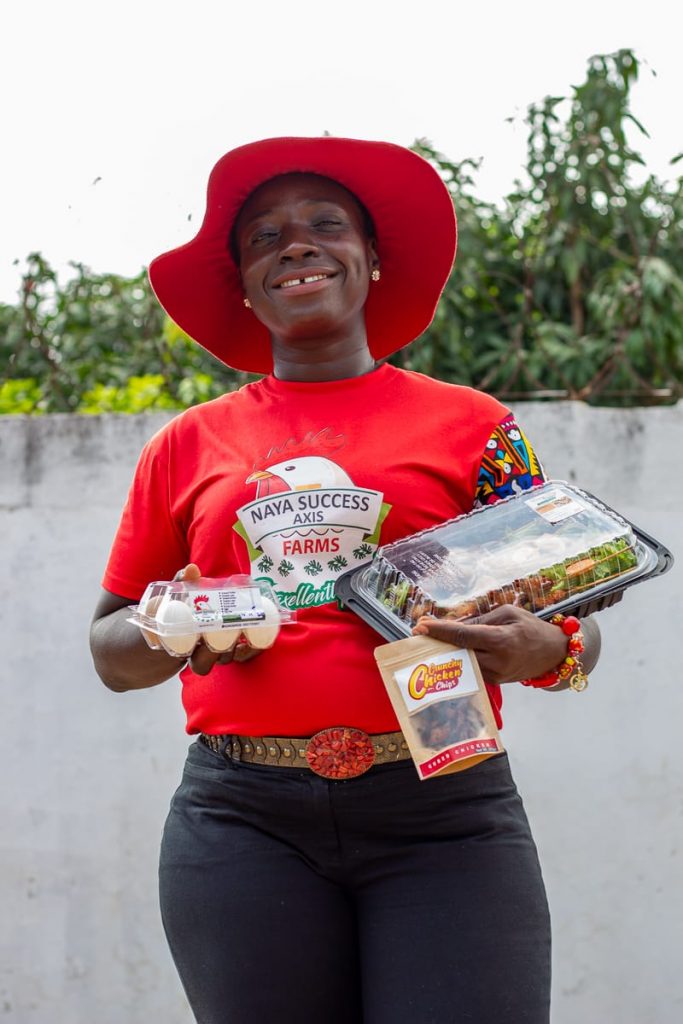 Alright! So for our understanding of your market: does Ghana have a tradition of poultry farming?
Yes, Ghana does have a tradition of poultry farming. It was once even a hub for poultry in Africa. But now we have given away to foreign influx and that's really killing the industry slowly. Today local poultry farmers contribute only 15% to our annual consumption and 85% of the poultry is imported. Local poultry farmers struggle to find markets. People like to buy imported chicken products because they're convenient, cut up into various pieces. If you want only the thighs, that's what you'll get. If you only want the wings, you'll only get the wings. With local chicken, local farmers expect consumers to take the whole chicken – including some parts they don't need. Consumers have to buy it all the same. And the cost of production is very expensive.
So why should consumers go for local chicken after all?
With locally chicken raised, you know the impact. It contributes to employing local people along the long value chain of poultry. Also, the raw materials are all produced here, so the money stays within the country. The farmer has the option of feeding the chickens organically or to reduce the antibiotic residue. The taste of local chicken is also different, it's tastier. The imported chicken is frozen for months before use, it has a longer shelf life. Local chicken takes shorter to process, it's stored shorter. We encourage people to go for local chicken.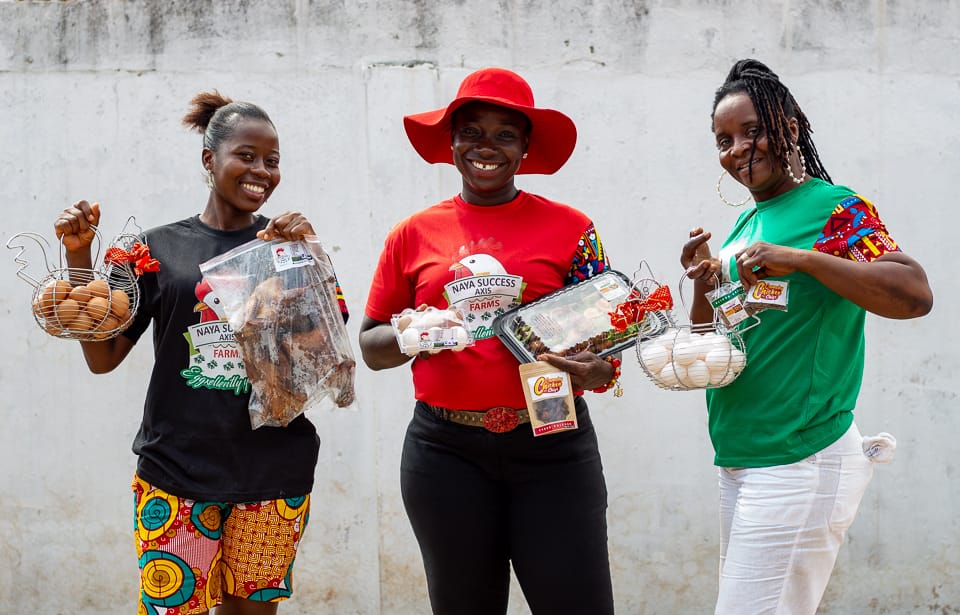 How did Orange Corners help you as an entrepreneur?
We've been through different acceleration programmes (idea development, minimum viable product, testing the market, launching the business and products, and finally scaling up) and each opportunity sent the business to a different growth level. After a few years we got to the stage where it was becoming a routine. Business coaches at MDF-West Africa recommended Orange Corners. Truly that was the training we needed to challenge us and catapult the business to the next level.

It was much more demanding, you needed to meet minimum criteria to qualify. My peers at Orange Corners were carefully handpicked. They were very serious, the movers in the system, like ShaQ Express, Planetshopgh and LeatherOnCall. They really challenged me to put my books together, be on social media, increase my revenue and stay resilient as a business. Orange Corners is an endorsement of what we were already doing and it came at a time where we faced new issues in the economy like the COVID-19 pandemic, inflation, global economic crunch etc.

Now our team can think big. We used to be scared of numbers, but not anymore. Orange Corners gave us a mindset of catalytic growth. We've tripled production, increased customer base for both wholesale and retail, and developed other innovative products yet to be launched. Orange Corners is exactly what we needed and I'm so happy about that opportunity.
Orange Corners gave us a mindset of catalytic growth

Yaa Asare
So you're here with us this week at the West Africa Deal Summit because you're an ambitious entrepreneur who wants to scale. Can you tell us a bit more about what brings you here today?
I'm here because I've developed a chicken product: chicken chips. And with that more local farmers will be able to grow year-round. Currently, the average farmer stocks products during Christmas and Easter, because they want to take advantage of the peak season. But during the off-season, people are still eating, their feasts are ongoing. If we can find innovative ways to consume chicken – and I don't mean just cutting them into different pieces to serve different markets, but also processing into ready-to-eat snacks, it'll really help the local industry. It'll allow local farmers to produce year-round.

I'm here to pitch for an amount that'd help me to start producing this chicken chips commercially, which will help a lot of female poultry farmers especially. We'll have locally raised and processed chicken available on the shelves anytime, anywhere. And not just during the Christmas and Easter season. At the same time, we give women a livelihood. Empower them, help them take care of their children and households.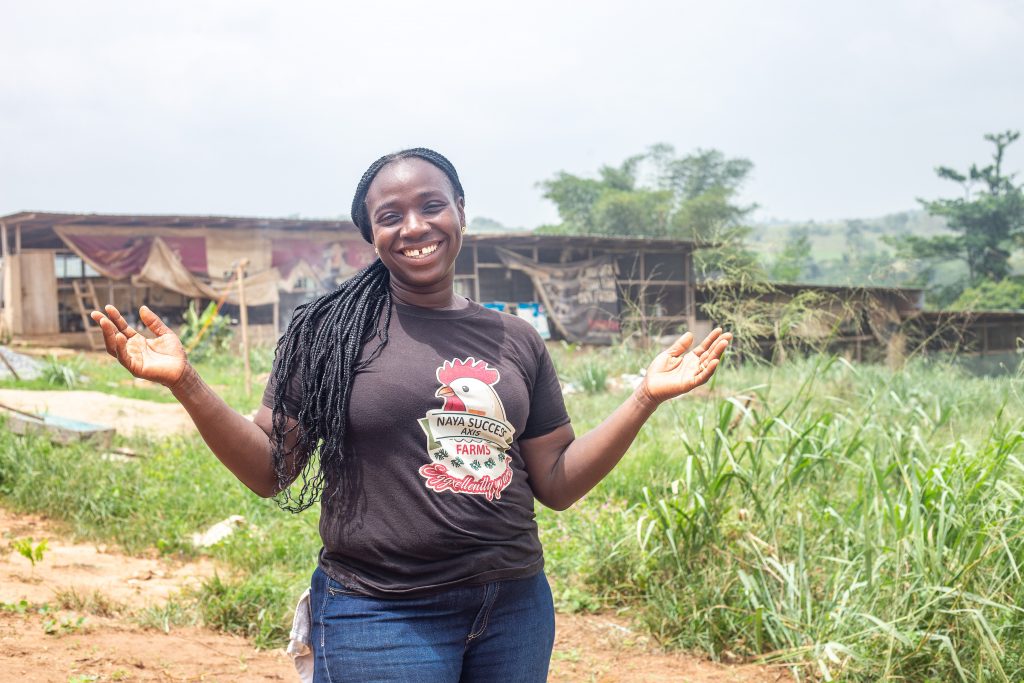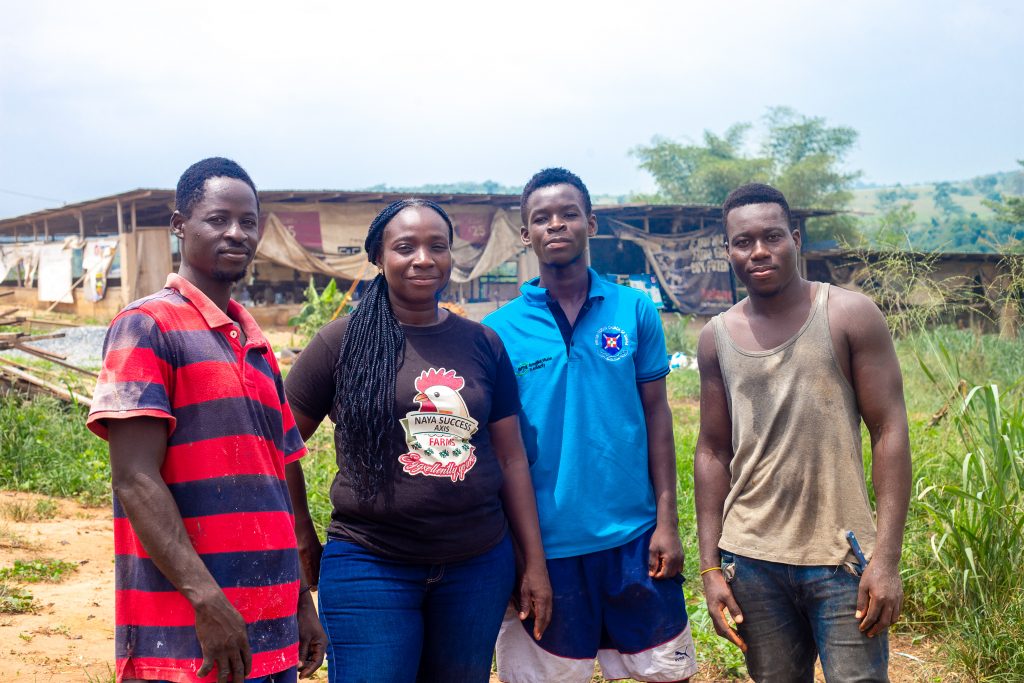 Aside from this short-term goal: if you look at the future, where do you see yourself going from here?
In the future we want our product and that of other local farmers to be in malls across the country, also serving restaurants. KFC in Ghana for example still imports chicken to serve the local market. We should be able to produce what the restaurants need locally. We want to have locally raised and processed frozen chicken on the shelves, that anytime you need chicken you can buy it and not only during festivities. We want farmers to have the confidence to continue producing chicken, knowing there will be ready markets for their products. And of course, we should also get to a point where we can export chicken. When our local chicken meets the international stands, we can take advantage of the African Free Trade and ship our products everywhere.
You're one of the few women entrepreneurs in a male-dominated industry. What inspired you to get in there the first place?
Women entrepreneurs look at many needs that their male counterparts gloss over. Men are all about the bottom line: how to make money and generate income. Women entrepreneurs in this industry look at other points of touching the customer: the health aspects, nutritional and society's needs. We produce a lot, but we don't go after the profits. We want to sell at a reasonable price, so other off-takers can also add their margins and make a living. We have a lot of customers in the wholesale segment for example. And we also teach others how to add value to the chicken. How to smoke the chicken, how to make different chicken products. So that consumers don't get tired of the usual way of cooking chicken that everybody knows – fried chicken. You can grill chicken, turn it into kebab. There are so many other nice ways and innovative chicken recipes.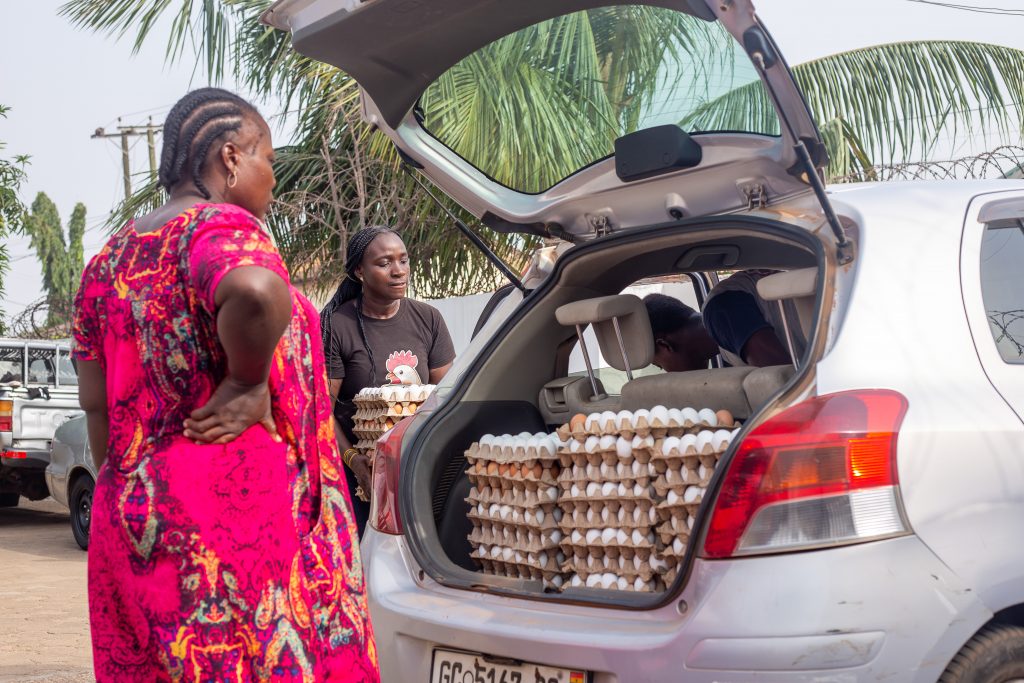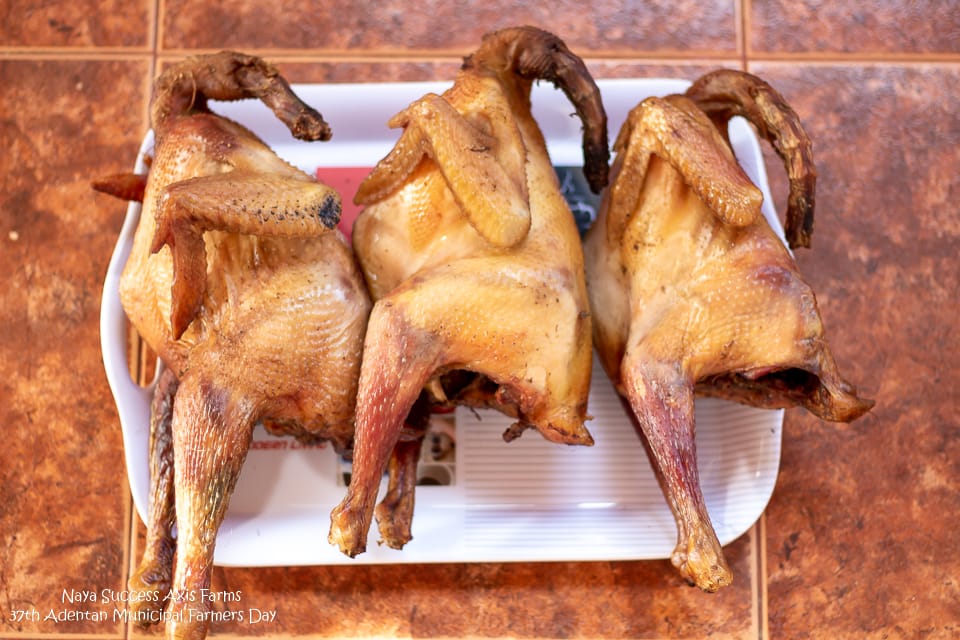 What would you say to other women who are maybe still thinking about taking up entrepreneurship?
The work is overwhelming. And we need a team to spread the word, more hands to solve problems in society. They should come on board! You know, what scares us – especially women – is fear. Fear of who'll take care of the home when we aren't there, fear of competing with men, fear of being the breadwinner. But it's not about that. It's about partnership. It's about supporting each other. If you're female and you're an entrepreneur, you're also making money, supporting the home. So just pitch in, just bring your support. And you'll realise that it's not so difficult as you thought. When women venture into these spaces, we're not competing with men, rather we're working side by side. We help and support them. As I find myself, there are lots of men supporting me, helping me to survive in all areas; home and business. When they see a woman in the entrepreneurial space, they feel excited and they want to pitch in their support and help. I encourage women to come on board. There's a lot of room for you. There's a lot of work to do. And there's a lot of money to be made in this entrepreneurial space.
Women: there's a lot of room for you in the entrepreneurial space. There's a lot of work to do and there's a lot of money to be made!

Yaa Asare
I have four girls, all involved in the business. When we're processing they all come and join, do packaging for example. And even if they're just observing, they can take mental notes. My mother was my role model as an entrepreneur. I started this business at age 30, but I remember when I was 15 my mum used to bring goods from the farm and she sent me door to door, knock on neighbours' gates and ask them if they would want to buy some of our cassava or eggs. She was a teacher, and she used to sell things to her students. Pancakes, peanut butter and the like. We'd have to wake up early to help her get her wares to school if we wanted to get our spending money. That built a lot of discipline in me. I still wake up at 4 am to put my business books together before the whole household wakes up. I need to manage my time well, be organised to get my to do lists done. And I didn't know it at the time, but when I grew up, I realised I had developed an entrepreneurial mindset. And that's what really helped me. Because our trade doesn't really have internships or anything, by supporting our parents in their work we're groomed to be who we are
Any final words of advice for young entrepreneurs?
Ghana is sitting on so much wealth, so much potential. It saddens me to see a lot of imported items, which can also be found locally especially in the malls. There are lots of jobless people, sitting idle, spending almost all their time on social media, not being productive. I implore the youth to come on board and find their passion. It's not all about money, get training first. If you have a passion and you have a will, get aligned to a business that's already doing it. Go for internships, for goodwill and support. Be it a weekend job or an after-school job. Don't sit and wait for people to support you when you actually haven't added anything to yourself. Make yourself ready. Put yourself in a position where you're willing to be helped and you'll make it!
Follow Yaa's Naya Success online:
Facebook
Instagram

Email: [email protected]
+233(0)244384928 / +233(0)244972219