Last month we had the pleasure of welcoming some of our Orange Corners Ghana alumni at the HQ in The Hague. Not long ago, they started their businesses with just an innovative idea, and today Stephen Kyei Sarpong, Gideon Dendzo, Alice Frimpomaa Boateng and Derrick Sarfo are ready to expand internationally. Guided by our CBI colleagues, they mapped the Dutch market, met countless potential business contacts and got a better idea of what it's like to do business in the Netherlands. While they were around, we used the opportunity to ask Stephen and Gideon some questions about their businesses, their experiences with Orange Corners and their international plans.
First of all, could you guys quickly introduce yourself and your company?
Gideon: I'm Gideon Dendzo, the founder of Giddins Ghana Limited. Giddins is a socially conscious fashion brand that manufactures high-quality leather products, such as shoes, bags, sandals and belts. We empower and train vulnerable young people, so that they gain lifelong skills to build sustainable careers.
Stephen: I'm Stephen Kyei Sarpong, the CEO and creative director of LeatherOnCall Ghana. We upcycle environmentally friendly materials, such as wine corks and MDF wood to create sustainable fashion accessories, such as belts, wallets, slippers, sandals and more. And what makes us unique is that we offer customised laser engraving on our products, for birthdays, weddings, corporate gifts for example. We also train people in footwear making and laser customisation.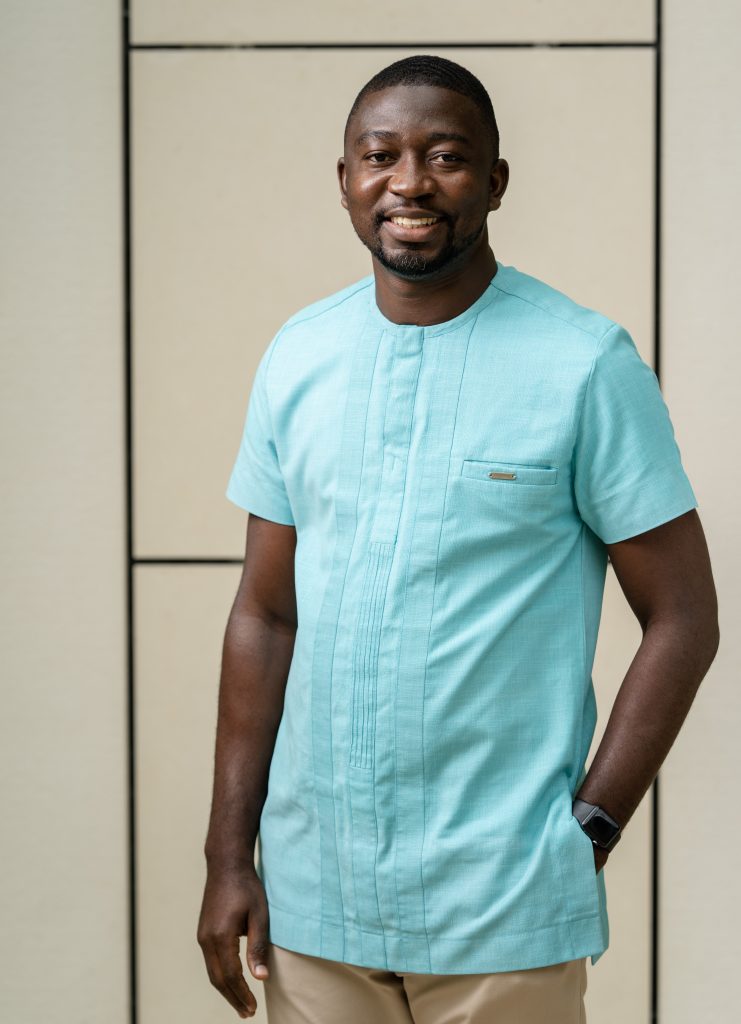 You've both been in business for a while now. What inspired you to start your business in the first place?
Stephen: For me, it's fulfilling a kind of desire. I have a background in Environmental Resource Management and I wanted to bring to life what I had learnt about water management, manual sorting and recycling. I used to work fulltime in the oil and gas industry, but when the time was right I resigned to take this up fulltime. And it's been an amazing journey so far!
Gideon: I started the business in college, as a way to take off the financial burden of my parents. During a course I took, I discovered that conveyor belts are mostly discarded by manufacturing companies for safety reasons. I came up with the idea to use them for the soles of shoes. When I produced my first five pairs of shoes and sold them to my college mates, I realised that I could turn it into a business. And not just as a means to live more comfortably on campus, but also to make an impact on my community. I decided to take up school dropouts and other vulnerable youth who find it hard to get employment in the formal sector and have a high risk of being engaged in social vices. To train them and help them create sustainable futures for themselves has been our core mission as a business.
Both of you are in the Netherlands this week because you think big, beyond Ghana. Can you tell us a little bit about your reasons to visit?
Gideon: As a business, we all want to grow. And as part of our growth trajectory, we feel that this is the right time for us to enter the European market. With our sustainable, eco-friendly processes, the kind of people interested in products like ours are in Europe. We want to push some of our niche products into this market. And we're also interested to gain market insights. So that's why we're here, to explore the market potential. There's quite a bit of bilateral trade going on between Ghana and the Netherlands, and us small businesses can also take advantage of that. The past few days have been very exciting. It's been eye opening for us and it has exposed us to the vast opportunities that await us as Ghanian businesses.
And as we go back, we're able to rethink how we make sure we have zero waste in our production process. How to improve our processes, make them more sustainable. This is what the European and Dutch customers are looking for. And also how we can make sure that we're developing structures, systems and policies that protect our workers, make sure that we give them fair wages.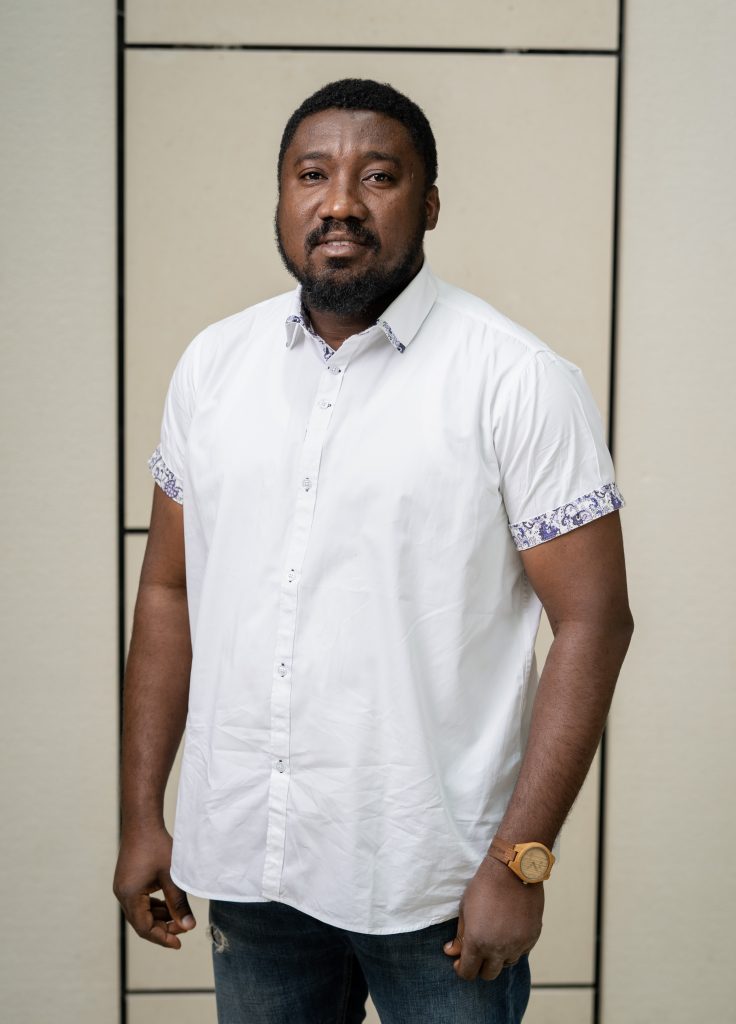 What about you, Stephen? Do you have a similar motivation to be here?
Stephen: For LeatherOnCall, we're more interested in materials, like wine corks. We don't have oak trees in our region, so we formed a strategic partnership with a Spanish company. So I'm already getting some raw material from Europe to produce my products. For me coming here is about touching base and also to learn about certification that's available for us especially, what we need to do to get our products here. It's been amazing so far, we're really enjoying our visit. We've had a trip to Rotterdam, made contacts here and there, visited companies interested in our products. They've given us super useful feedback, shown us how shoe sizes, the quality, the design, the colour combinations and a lot more are different.
That's great to hear! So going back, what will be your next step?
Stephen: The next step is to do things differently. Especially orderliness. We're here and the team is back there, working, taking orders and making things flow. We need to build up processes and systems, let our businesses work independently of ourselves. We need to make sure the processes work, that the the right things happen at the right time – getting our raw materials, getting our finished products to the shops.
What about you, Gideon? What are you going to do when you get back home?
Gideon: I think we really need to look at our processes and policies that could improve worker's conditions. And also make sure our production is efficient. Because the European customers are much more conscious about how your processes save their environment, how you treat your workers. They're not just looking to buy products, they're looking to buy a product with a purpose. And so if you were doing it, let's say on a scale of 10 and we're at 6, we need to strive towards getting that 10. And also, think about how we could sustainably source our product, look for alternatives to the materials we're using now. And we're also looking at forming collaborations or partnerships with Dutch logistics companies, to be able to freely move our products from Ghana to the Netherlands or any parts of Europe.
Looking back, you've come quite a long way already. How has Orange Corners helped you get where you are today?
Stephen: Orange Corners has been a lifesaver. I've gone through a lot of other programmes, some helped us grow, some helped with finance.. what stood out for me is that Orange Corners fused it all, from the training to problem solving. And to the funding of it. The coaches have also been amazing. I came to Orange Corners in the process of remodeling my business. I was seen mainly as a footwear manufacturing business, but I was doing more than that. Other products, laser customisation. But I didn't know how to fuse that. So I sat down with my coaches, let them know my ideas and they guided me in the remodeling. And I was also able to get access to the Orange Corners Innovation Fund. This allowed me to get a new set of machines. We're going to not only do laser engraving, but also UV colour printing on wood. I can confidently say that we'll be the first business in Ghana to do that!
Gideon: The six months intensive programme helped to change our mindset about entrepreneurship. The benefits I've had so far was the training, the networking. In Ghana and also in the Netherlands. The money bit has been phenomenal. We call the Orange Corners Innovation Fund the Orange Money.

In Ghana as a small business if you need to get a commercial loan from a bank, the interest is at 33%. That kills your business right in the beginning. Having a fund that gives you 70% grant at an interest of about 5% I think is a great thing to start. In the Netherlands, other parts of Europe or the US startups have the luxury to pilot their ideas. They have the flexibility to pilot them because they have some seed money or grants which don't come at any interest. Back home in Ghana your creativity is killed early because you don't have the money to create things. If you need to take a loan at 33% you're scared to pilot something. With OCIF you can use that 30% grant to create new things and test stuff. And I like the fact that it's part grant and part loan, so the loan holds you accountable, you still need to pay back. It allowed us to purchase the first set of machines, which doubled our production capacity. We just need to employ more people so that we'll be able to hit that target. That being said, it's also about making sure that as we get new people on board that we're able to train them to be part of our production process. But it's been very great. And we hope that Orange Corners is sustained and a lot more other young businesses can take advantage of it. Because you know, the Ghanaian ecosystem, the startup space, is booming. And so funds or grants of this nature are much needed.

Follow Gideon & Stephen online:
Giddins
Website
Facebook
Instagram

LeatherOnCall
Website
Facebook
Instagram