When I first learned how to make a surfboard from scratch, I liked it so much, I knew I wanted to do it for the rest of my life.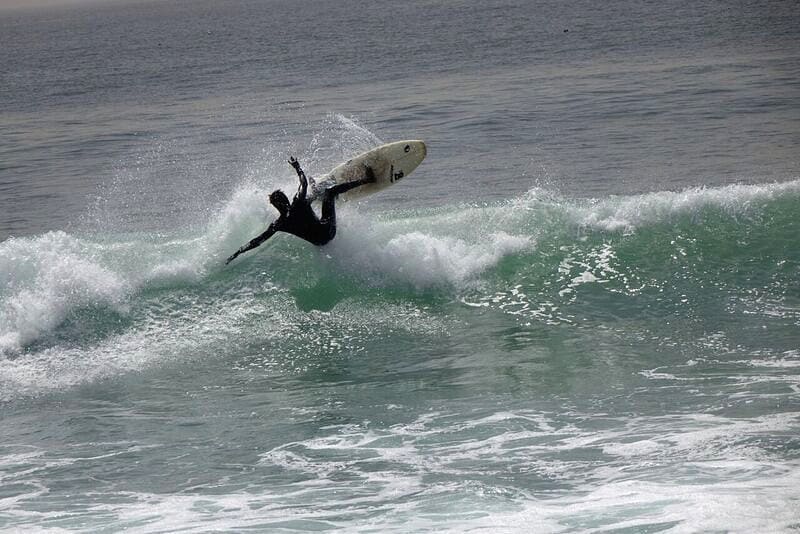 The beaches of Dakar in Senegal are unexplored and uncrowded and serve waves for all abilities. The surfing spots are located along the coast north of Dakar and all the way south, which makes the city a perfect location for surfers. Papa Diouf, founder of Sunugal Surfboard Repair, is an avid Senegalese surfer catching the big waves swelling from the North Atlantic. When he was kid, it was difficult to find surfing material, so he used wood instead. But he kept thinking how to make his own surfboard. Until one day, a local surfer let him borrow his surfboard. He discovered he was very good at it and not only wanted to make his own surfboards, but also want to repair the ones along the beaches of Dakar. OCHQ asked Pape about his passion for surfing and Sunugal Surfboard Repair, a portmanteau for sun and Senegal.
When did you first start surfing?
"In 2013, I had never even touched a normal surfboard. But surfing with wood worked perfectly fine. I was having fun. But I got better after using a real surfboard, and since then I never stopped doing it. I am a surf instructor, repairer and shaper now.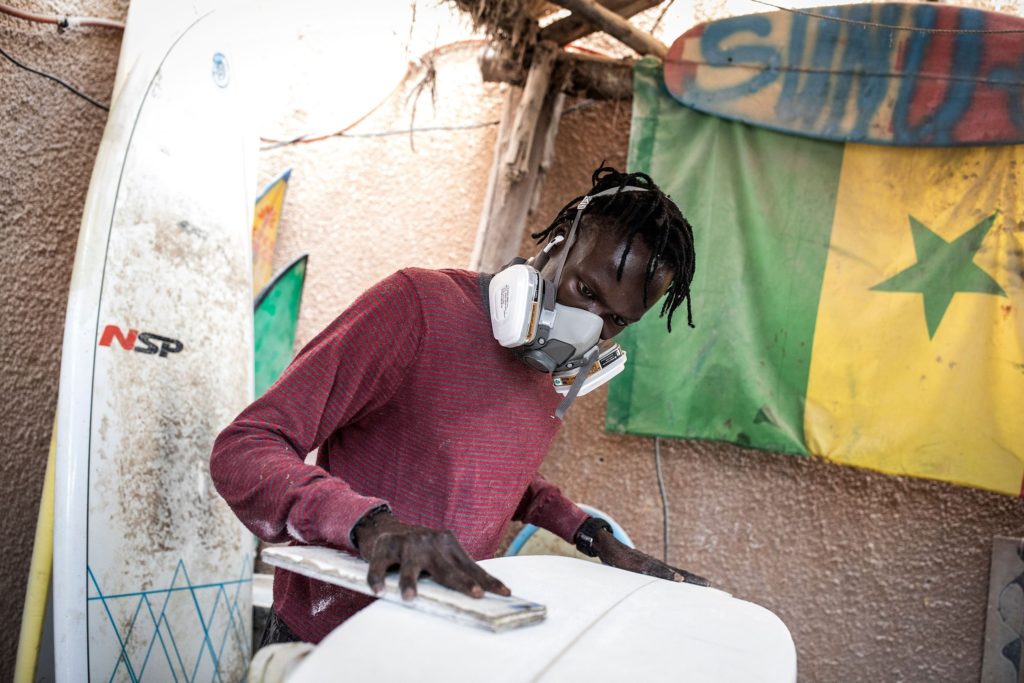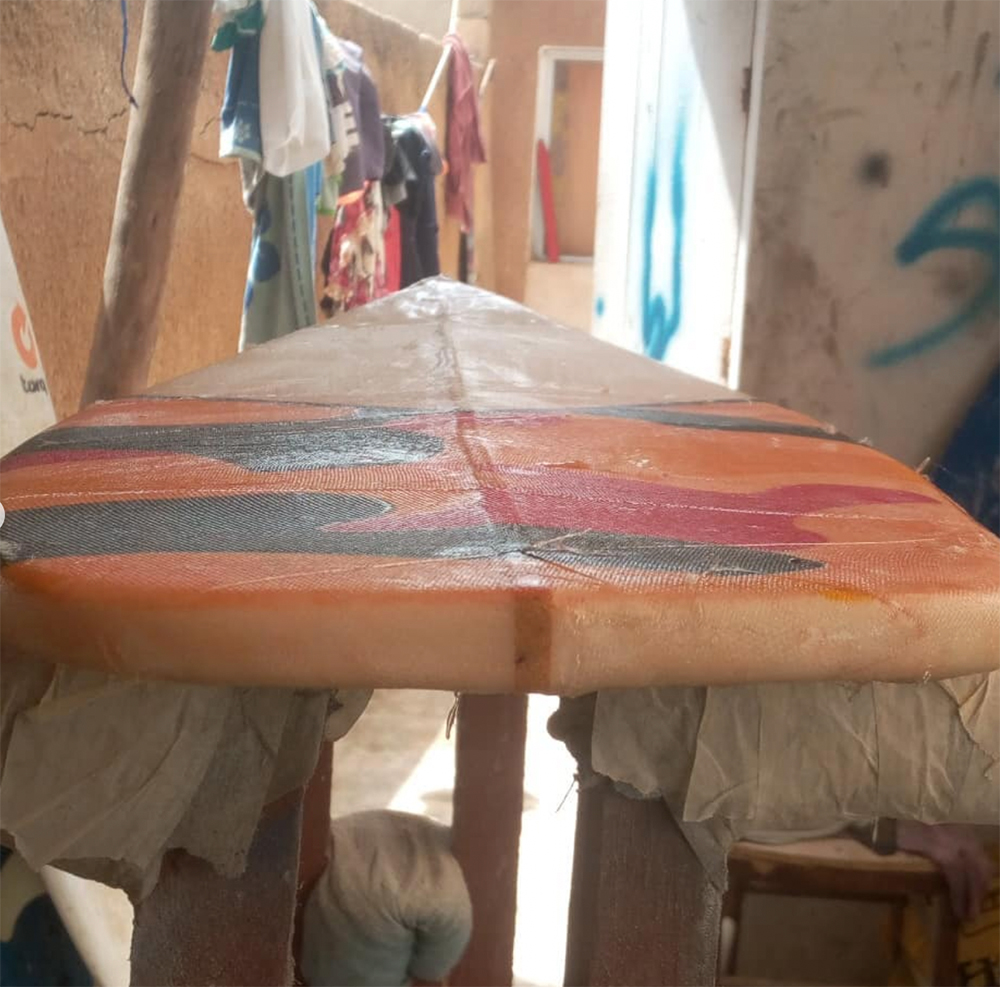 "First, I started exploring how to shape a surfboard from scratch and discovered which materials I had to use. I had access to heavy local wood, but I also needed foam, resin (a substance that resists cracking and crazing of the surface of a board) and fiberglass cloth, raw materials which are generally hard to find in and around Dakar. The traditional fiberglass board we make are shaped out of a foam core which I do by hand. The core is then lined with fiberglass cloth and laminated. Finally, I cure and sanded the board which gives it a smooth surface finish. Making a surfboard takes up to three days, but it also depends on the design a surfer wants to have.
"When I first learned how to make a surfboard from scratch, I liked it so much, I decided I wanted to continue doing it for the rest of my life. And until today, I still do it. It is my business for the local, young and surfers in West-Africa."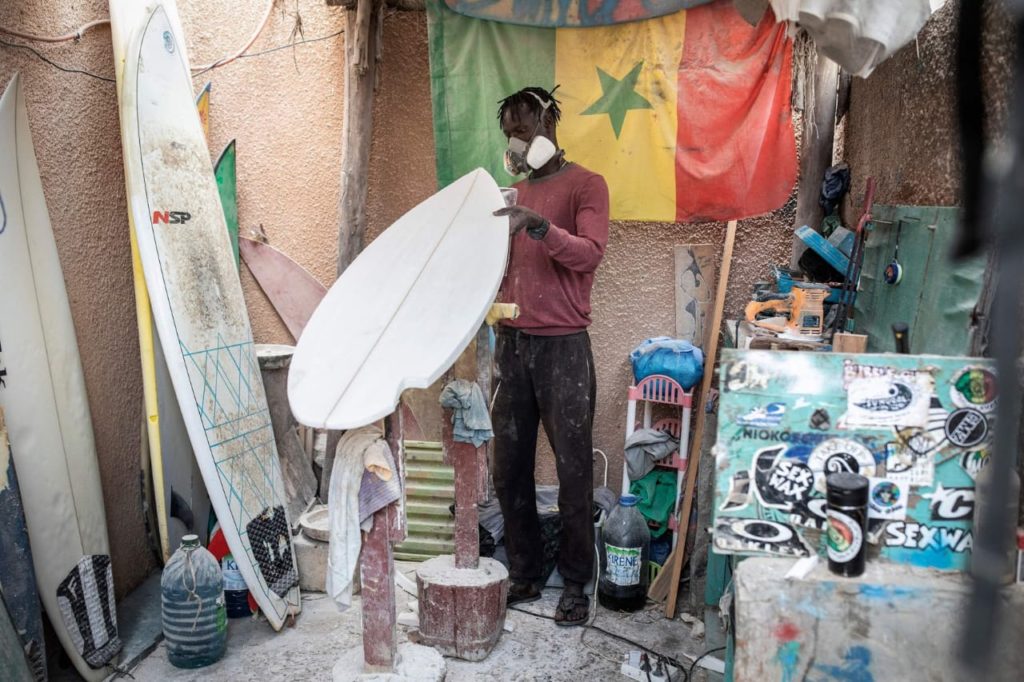 When did you participate in the Orange Corners Programme?
"From April to September 2021. Before I entered the programme, my knowledge of business was very minimal. Once I got in, I learned all the requirements and fundamental principles of having a business. I improved and learned everything from the managerial and marketing side of a business, how to update my Facebook and Instagram regularly and to attract more customers. It was very interesting and extremely useful.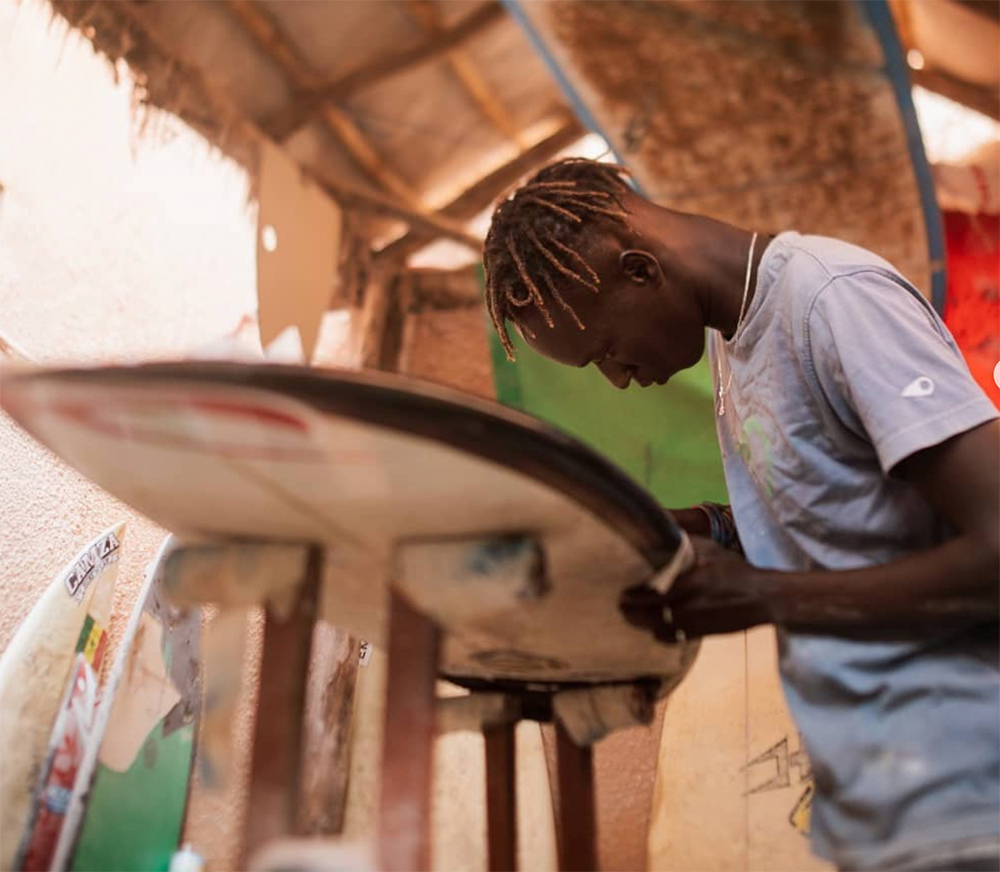 There are a lot of difficult sides to entrepreneurship, but never give up on your goal.
"My next step now is to have more equipment and have a bigger space, make and repair more surfboards. Because in five years, there will be new start-up coming to Dakar that will have a similar approach as Sunugal. So I want to embody the Senegal "Teraanga" generosity of spirit, hospitality and sharing that pervades our daily life. By expanding the space I have now, I hope to teach other surf admirers or specialist my skills. I hope to become the best and most well-known surf specialist in town, characterised as a 100% local surf, repair store and brand owned by locals. I wish to expand the Senegalese surf industry in Dakar."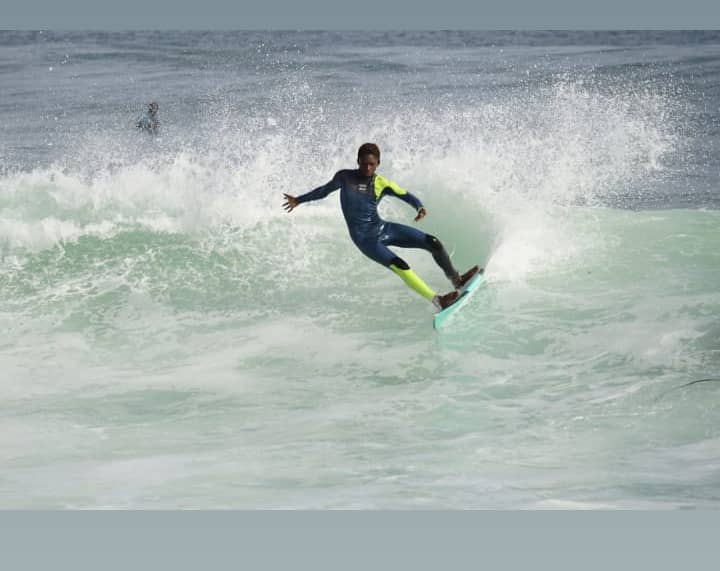 Where would you like see Sunugal in five years?
"I also hope to educate the people around me on how to make their own surfboards, increasing their technical skills and precision whilst transferring my skills. A bigger space will allow me to give workshops and to have more people working and collaborating with me. For now, it is just me and the local designer, who is my friend, who makes the designs on the board. But I hope to become a bigger and offer working opportunities for the people that deserve it. I want to share what I know, as life is all about sharing."
Belief in yourself first and keep on working on what you want to achieve, everyday. Never give up on yourself and the dream you have in mind. Starting something new is sometimes the most difficult step to take.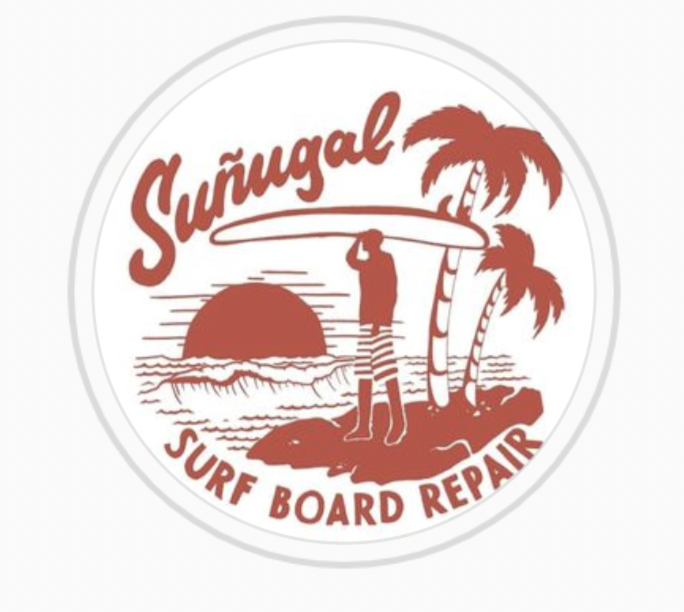 What do you think it was the most difficult for you as a startup? What do you see as a challenge or struggle?
"The big challenge for me is how to expand my start-up. The locals see what I am doing, but I want to find a better platform to further expand my business and cover my expenses. I want to invent, increase and collaborate. The goal is to make my surfboards more affordable for locals, as it is now still quite pricey. Lowering the price of my boards for local, is an other goal of mine. Making surfboard will become part of our community identity, so that we don't rely on international surf companies and make ourselves proud."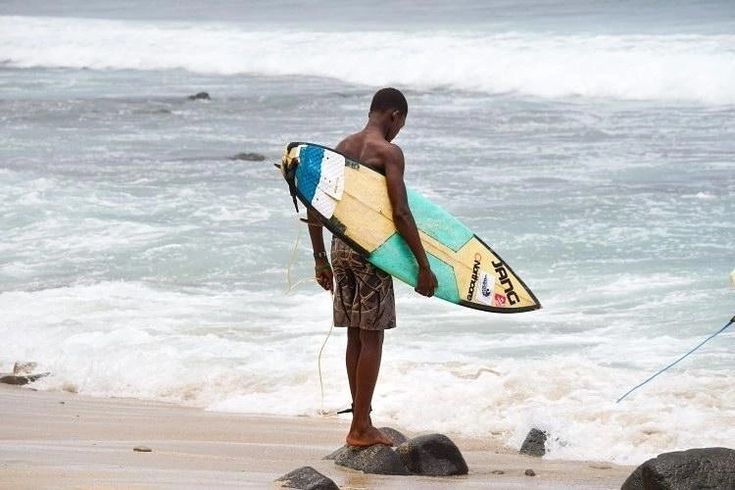 if you had to give advice to other entrepreneurs, what would you give them?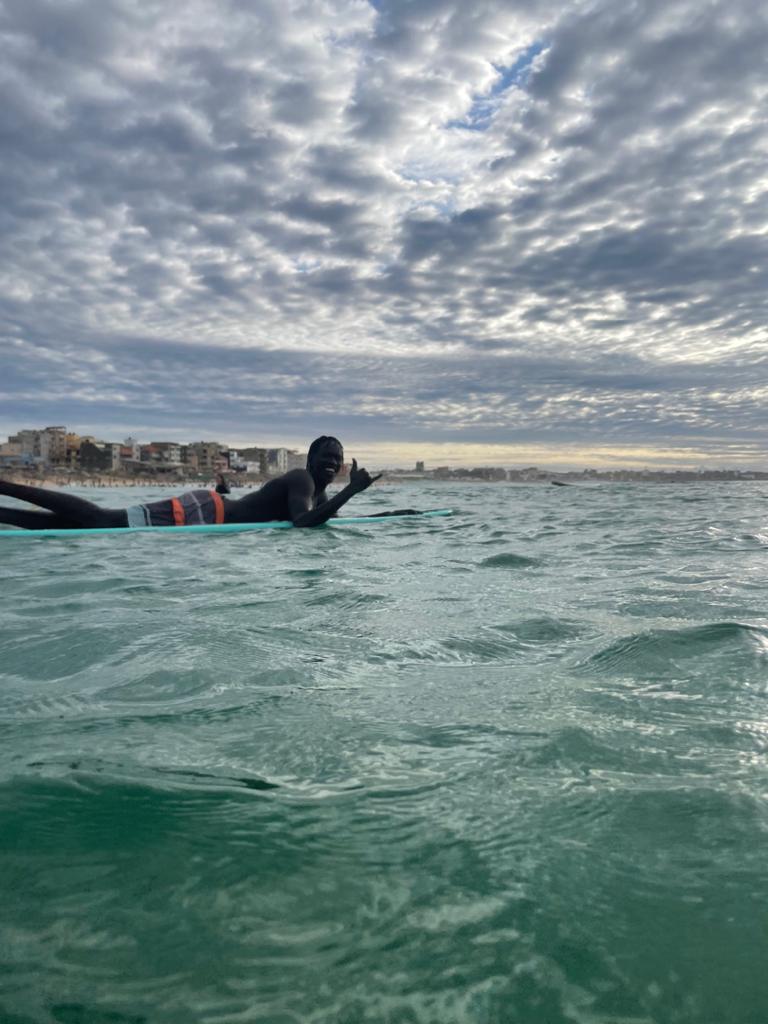 "Belief in yourself and keep on working towards your goal, everyday. Never give up on yourself and the dream you have in mind. Starting something new is sometimes the most difficult step to take. It is challenging, but worth it. Being an entrepreneur is not easy, every hassle you face is your own responsibility. There are a lot of difficult sides to entrepreneurship, but never give up on your goal: making a living for yourself and the people around you. It will enable your country, and for me Senegal, to shape its own future. "
See more of Pape here: