We proudly announce that last night, the Orange Corners programme of the Netherlands Enterprise Agency (RVO) finished in the top five of the 2022 WTPO Awards in the category: Best initiative to ensure that trade is inclusive and sustainable. We also congratulate this year's winner: Zimtrade from Zimbabwe.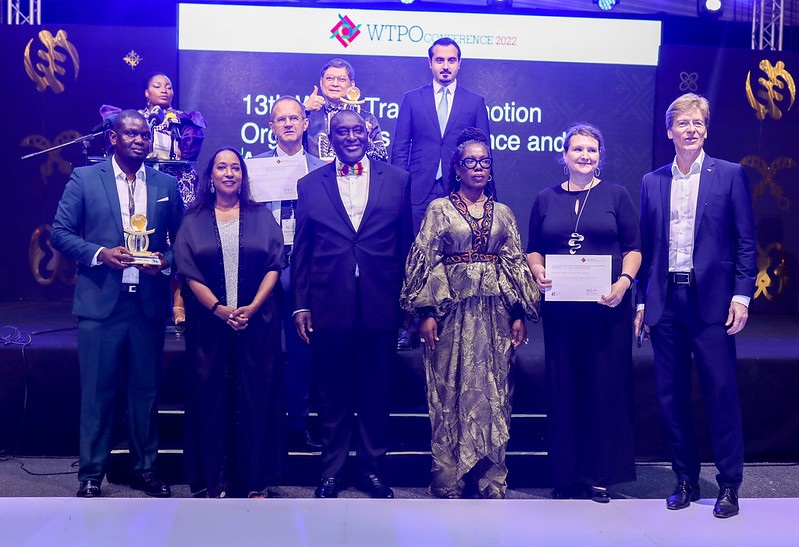 The WTPO (World Trade Promotion Organisation) awards are presented during the WTPO conference, which is a biennial event. The 2022 edition is organised by the International Trade Centre (ITC) and the Ghana Export Promotion Authority. As, this year's event took place in Accra, Ghana, the 2022 conference was opened by His Excellency, Nana Addo Dankwa Akufo-Addo, President of the Republic of Ghana. The WTPO Conference is seen as a key flagship event of ITC, providing examples of current best practice in trade promotion organizations (TPOs) and fostering international TSI knowledge networks, linking developing and developed countries. This year the Netherlands Enterprise Agency, who's part of the TPO network, selected their Orange Corners programme to participate in the award.
Orange Corners aims to improve job prospects for youth between the ages of 18 and 35, in Sub-Saharan Africa and the Middle East. OC is a public-private initiative, active in 14 countries, with 17 hubs and counting. The programme strengthens ecosystems for youth entrepreneurship and youth employment. Furthermore, Orange Corners stimulates the entrepreneurial mindset of young people. It offers incubation, acceleration, access to finance, education and training, support for policy development and business challenges, with a strong involvement of the Embassies of the Kingdom of the Netherlands and partners from the private sector. Herewith, Orange Corners actively contributes to creating sustainable and inclusive economic growth and decent work for all (SDG8) by reducing unemployment and increasing exports by the young participating entrepreneurs.
By performing entrepreneurial ecosystem mappings and cooperating with local stakeholders, Orange Corners adds value where it's needed and creates the highest possible impact for young entrepreneurs in the Middle-East and Africa.
Quote Tjerk Opmeer, Managing Director of RVO International Programmes: 'It was so great to attend the WTPO Award meeting here in Ghana and feeling the excitement about being in the top five in this important field. Youth have the future, and their future should be sustainable. I am proud we have a programme like Orange corners, which opens doors, brings young people together and can create pathways to fulfill their dreams of a better future.'
About Orange Corners
Orange Corners is managed by the Netherlands Enterprise Agency at the request of the Dutch Ministry of Foreign Affairs. Each Orange Corner is initiated by a local Dutch Embassy and in close corporation with local partners. Orange Corners aims to increase job prospects for youth, through building ecosystems for young entrepreneurship and youth employment. The scope is youth between the ages of 18 and 35 in Sub-Sahara Africa and the Middle East.
More information:
Orange Corners
Contact: Iris Sauer
Email: [email protected]