Orange Corners is a network of people dedicated to create a better world through entrepreneurship. From Senegal in the west to Bangladesh in the east: all our local hubs are run by local organisations that share our ambition to strengthen local ecosystems and help young entrepreneurs turn innovative ideas into sustainable businesses. Although all local Orange Corners programmes are unique in their own way, Orange Corners Morocco (La Caravane) is perhaps our most unique. And who better to explain than Youness Ajoutate, manager of the Orange Corners Morocco programme?
Hi Youness, lovely to have you here! For our readers who don't know you yet, could you introduce yourself?
I'm Youness Ajoutate. I have a master's degree in entrepreneurship support and I've worked at Bidaya for over two years now. I joined the Orange Corners programme as a regional coordinator. After the first two cohorts, I became the programme manager and now I'm the head of the incubation section, which means I work on multiple incubation programmes. We've been implementing Orange Corners Morocco – La Caravane since March 2021. We're on our fourth cohort now, which started in February.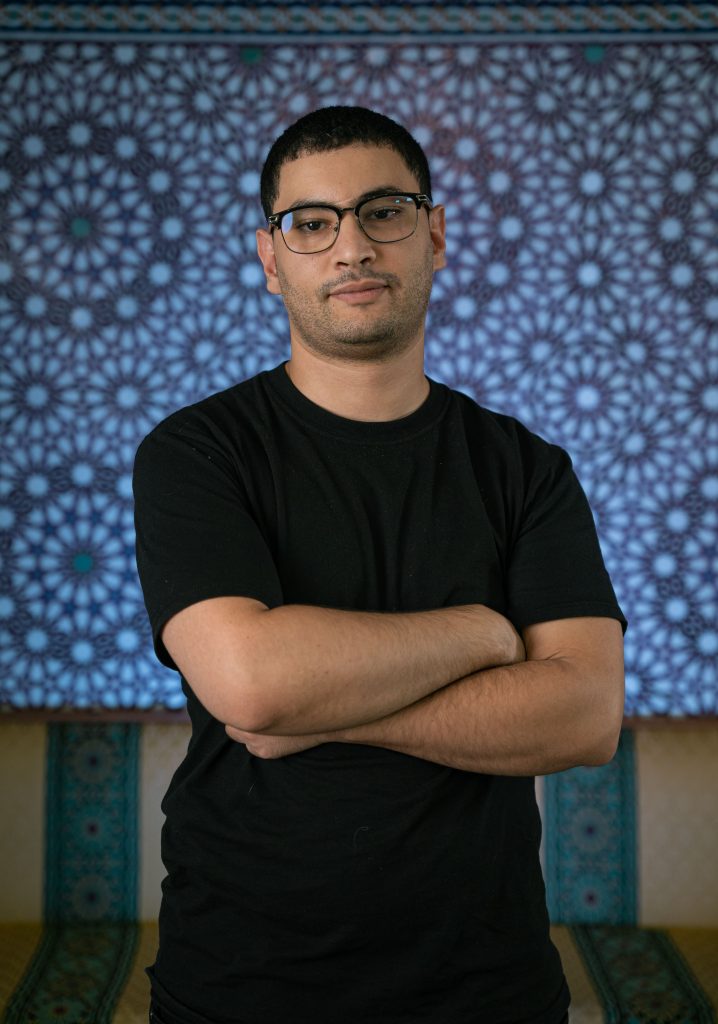 La Caravane is a pretty unique concept. Can you explain a little bit more about what you do?
Orange Corners Morocco is the only hub that has a mobile format: it's a caravan that moves from region to region. Every six months we implement the programme in a different region. There were three reasons behind this choice: many similar programmes are located in Morocco's two main cities, Casablanca and Rabat. We wanted to offer the same opportunities to entrepreneurs in other regions, as there's also a lot of potential there. We also wanted to match the specifics of all the different regions. Morocco is a big country. Every region has its own needs, its own obstacles and opportunities. With this format, we can adapt the programme to these different needs every six months. And budget wise it also makes sense to move a small Bidaya team to a new location, rather than make 15-20 entrepreneurs travel across the country to attend trainings and events. So, entrepreneurs can follow the activities from the comfort of their own home region, while working on their project.
We want to match the specifics of all the different regions

Youness Ajoutate – Orange Corners Morocco
You're on your fourth cohort now. How did the programme develop from the first cohort until what it is today. Any lessons learnt worth sharing?
The first edition was the easiest, as it was between Casablanca and Rabat and held in our own space at Bidaya. We already knew the context, were familiar with the local actors and the overall ecosystem. Starting from the second cohort, we moved to the north and then to other regions. We quickly understood that we can't do it without working closely with the local or regional ecosystem, public organisations and the private sector. So now before even launching a call for applications, we get in touch with all the local actors, to see what they can offer and how they can contribute during the six months of the programme. We usually work with one or two local incubators to get access to facilities for the entrepreneurs, and to get access to the local network. We like to involve experts from the regions, because they have the best understanding of the needs and the characteristic of that specific region.
And initially it was also hard to recruit female entrepreneurs. We had to adapt our default way of launching the call for applications. We now make a general call, but also a call exclusively to female entrepreneurs, so that they can feel safe to apply. We select projects based on the quality of the ideas, products and services that they're developing.
Do you also see differences between the different regions that you've worked in?
Yeah, the main difference between the regions is the maturity stage of entrepreneurship overall. Some regions are really developed, they already have an infrastructure and an established ecosystem that supports entrepreneurship. And then our role is to join that dynamic and to bring additional value. Other regions are still in the early stages when it comes to entrepreneurship. That's a challenge, but also an opportunity to help build that emergent ecosystem. And the second difference is of course the dominant sectors or activities. For example, in Souss-Massa we have agriculture and tourism, whereas in Fes-Meknes the businesses were more oriented towards education, handcrafts and the cultural sector.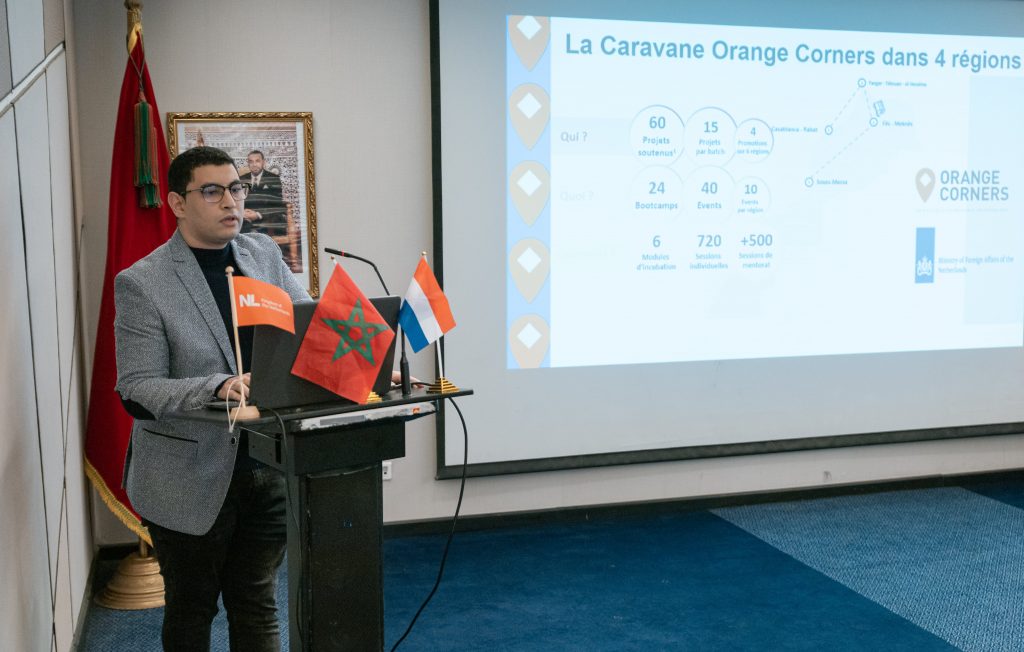 What about your current cohort?
For our current cohort we're in Souss-Massa. This is a region that's very well developed in terms of entrepreneurship, which was also reflected in the quality of the projects that we got from the call for applications. They're already in very advanced stages of development. We found it really hard to choose only 15 from the 30 pre-selected projects. And I believe that on Demo Day the jury will also find it hard to choose 3 or 5 winners.
We had our launch event in February. We invited multiple actors from the public and private sector and alumni from previous cohorts. Our alumni shared their experience of how Orange Corners impacted their businesses and also gave the freshly selected entrepreneurs some tips and recommendations. Now we're executing the programme. We've organised bootcamps, workshops and individual coaching and mentoring sessions. I know that we're going to see great advancements and improvements in the 15 projects selected until the Demo Day, which is set for July.
If they're already in an advanced stage, what do you focus on with them at the moment?
For me an advanced stage means that they already have legal structures and they also already have a minimum viable product or MVP or a prototype that they're now trying to commercialise and push to the market. For this stage, we work with them on how to diversify their client portfolio, how to get more financing. Orange Corners comes with OCIF, which is a big opportunity, but they need more than that. And intellectual property. Many of them have innovative ideas that they need to protect. These are the three main topics that we focus on. And of course, there are other subjects such as marketing and communication or public speaking.
As we only select 15 entrepreneurs, this gives us plenty of time and resources to work on an individual level with each entrepreneur, address their specific needs. Some other programmes are maybe more quantity oriented (and that's fine as well, as you also need programmes for the masses), but at Orange Corners we focus on the individual needs of every entrepreneur selected.
Looking back at the past two years, what are the most important milestones for you?
For me every Demo Day is a huge milestone, because you get to see the development the entrepreneurs made during the programme when they pitch their projects to an external jury. And in your head, you compare it to the way they pitched their projects during the selection. And we're always grateful to see all the improvements. Also, Demo Day is also a great opportunity for all entrepreneurs because they get to meet different people and organisations. Even if they don't win OCIF funding, they leave with contracts and a great network.
For me every Demo Day is a milestone

Youness Ajoutate
And every time startups from La Caravane raise funding is a milestone for us. We had multiple startups that raised funding and now have viable, working, growing businesses that are looking into expanding to other countries.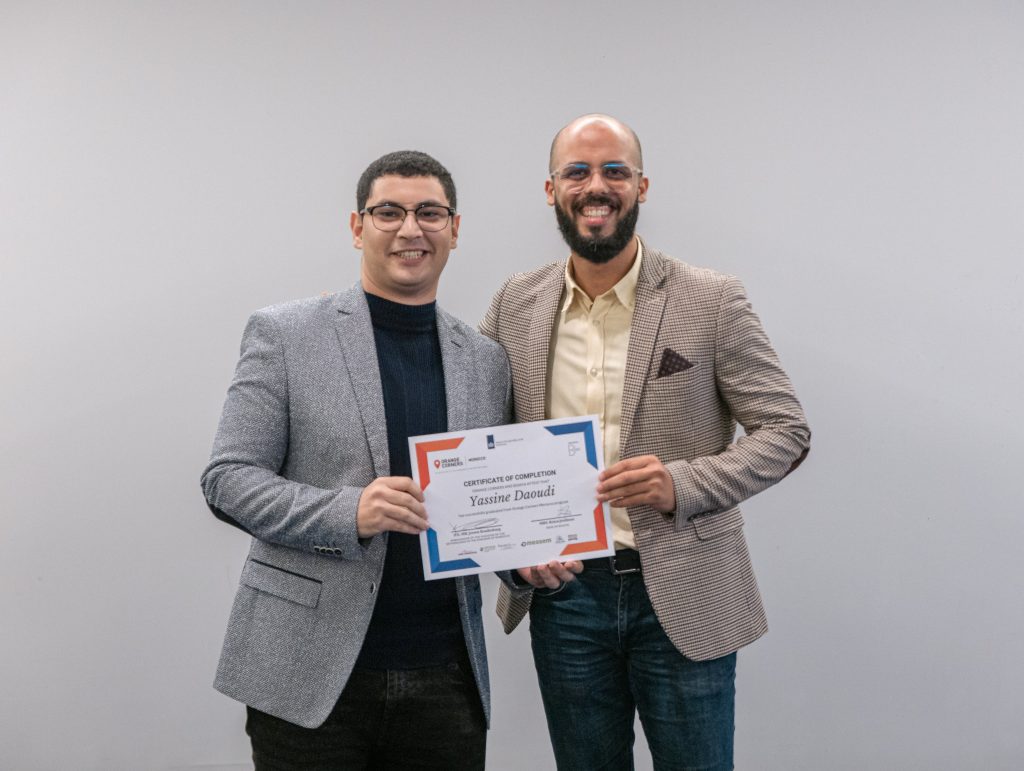 Can you share a little bit more about those success stories?
We already had many success stories! In the first edition for example, we had Eco-dôme, who builds ecological buildings with a reduced carbon footprint. He's doing projects all over Morocco. He started with individual houses for private people and now he's building touristic establishments such as hotels. Also, in the first edition, we had Green Watech, a wastewater treatment plant which aims to give small villages in Morocco access to clean water and water for irrigation. They did a very successful project with the Netherlands Embassy. And in the second edition there was WaveBeat, the startup that turns waves into electricity. They've already raised a significant amount of funding. In Fes we have Fooddeals, a food waste management solution that aims to reduce waste in the agri-food sector and create a link between big food enterprises and NGOs helping people in need. And there's many more.
That's lovely, you must be so proud already! Coming back to entrepreneurship in Morocco, what's it like to be an entrepreneur in Morocco? What are the specific challenges and opportunities in the Moroccan context?
I believe it's practically the same as being an entrepreneur in any other country in the world! It's difficult. We have the same obstacles and challenges as anywhere else: access to finance, access to facilities. But I believe that there was never better time to be an entrepreneur in Morocco. There are many programmes launched by the government to encourage entrepreneurship as a way to create employment. There's financing coming from differential institutions. There are programmes like Orange Corners, which develop entrepreneurship in different regions and give access to finance. But it's still hard, especially if you're not from a big city.
Believe in your idea, working hard and seize opportunities that present itself to you

Youness Ajoutate
You have to be resilient. You have to believe in your idea and be ready to seize those opportunities, because it's almost every time a matter of timing, of being in the right place and applying to the right programme. But it's doable, and other people did it before you. We have great role models and great success stories. And by believing in your idea, by working hard and seizing opportunities that present itself to you you can also be that role model that once inspired you to become an entrepreneur.
Socials:
Orange Corners Morocco
LinkedIn
Facebook
Instagram
Twitter