Did you know Africa recycles less than four percent of the waste it generates? With Scrapays, Orange Corners Nigeria graduate Boluwatife Arewa fights waste and poverty at the same time. While increasing the recycling rate in Africa with Nigeria as a starting point, Scrapays empowers their waste management agents to increase their own standard of living. Your travelling reporter spoke to Bolu at the West Africa Deal Summit, where he pitched to potential investors during the Deal Room sessions.   
Hi Bolu, lovely to have you here! Could you introduce yourself and your company?
My name is Boluwatife Arewa, and over the past 7-8 years I've worked at the intersection of product management, strategy development and operations management. Before Scrapays I coordinated operations for Sub-Sahara Africa, North America and Europe at an HR tech firm. And this is what I also do at Scrapays now, alongside my co-founder and team.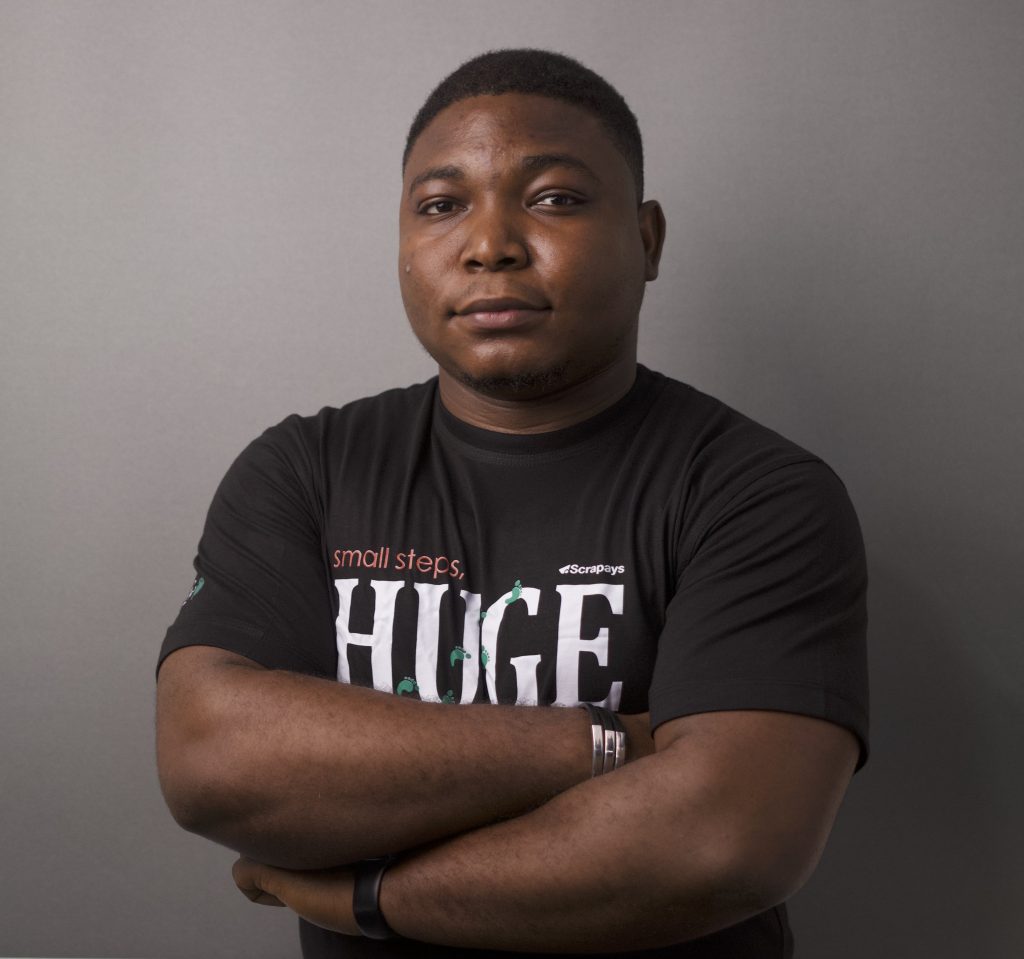 And what do we do at Scrapays? Well, literally everybody generates wastes. But as the population grows, as industrialisation progresses, there are no effective systems to ensure that recyclable waste is recovered most efficiently and profitably. For example, Africa recovers less than four per cent of the waste it generates. This is because there's no system to capture the process end-to-end, from the source of waste generation to the finer end point where it's being used by manufacturers again as raw material for production. Even though recycled fibre can be re-used for textile production, plastics, paper and metal collected also can be re-used. At Scrapays, we collect 13 different types of materials, from electronic waste to paper and plastics. To do this, we've developed a digital infrastructure that allows literally anybody to start up their own mini recycling collection business. With our newly released version 2, this will take less than six hours.

Today, if you have a space in your garage or in your compound or a small shop in front of your house, you can become an agent and start collecting recyclables from your neighbourhood using our mobile app and IoT system. It's like an Airbnb for recycling, where instead of renting out space for accommodation, you only use the space to store recyclables for a short period. We provide our agents with the technology they need to start and run their business on the go, with a dedicated team to provide them with the support they require to scale. In addition to the traffic we generate for our agents through our marketing activities, they also collect recyclables from individuals in their area, small businesses, supermarkets and the likes. And they immediately make payment for the materials using our phone number generated wallet system. If you bring an item to one of our agents, for example a bad fridge or a bad AC, you provide your phone number, they value the material using our mobile app. And payment is made to your wallet.
Our digital infrastructure allows literally anybody to start up their own mini recycling collection business

Boluwatife Arewa, Scrapays
For every kilogram of items an agent collects, they earn about 30 to 75% commission. So, the more agents collect, the more they earn. Some of our agents make as much as $1,000 in just a few weeks. Once they have stored up to the minimum required KG threshold of recyclables we connect them to our logistics partners, that collect items from agents in the same geographical zone and take these to our processors. For example, the metal that we collect goes to foundries that need scrap metal for their production. They use it as raw material for road construction, nails and the likes. And they're willing to pay for that. The same goes for the other materials we collect, such as plastics or copper. So it's an end-to-end flow, from individuals or businesses generating waste to agents who collect & store it, to another company using it again as their own raw material. It covers the entire value chain.
What does your network currently look like in Nigeria?
We're currently active in three states: in Lagos, Ogun state and surroundings with some penetration in Ondo state. And it's not just an urban thing, we're in urban, suburban and even some rural areas. In fact, we've noticed that we have a very high activity rate within suburban areas. Because there people have the required space and land for recovery units.

Currently, we have about 2,000 agents on our platform, but our target is to have a minimum of 20,000 of them working with us by the end of this year in 22 out of 36 Nigerian states. These agents are really vital to what we do: the more agents we onboard, the more waste we're able to recover.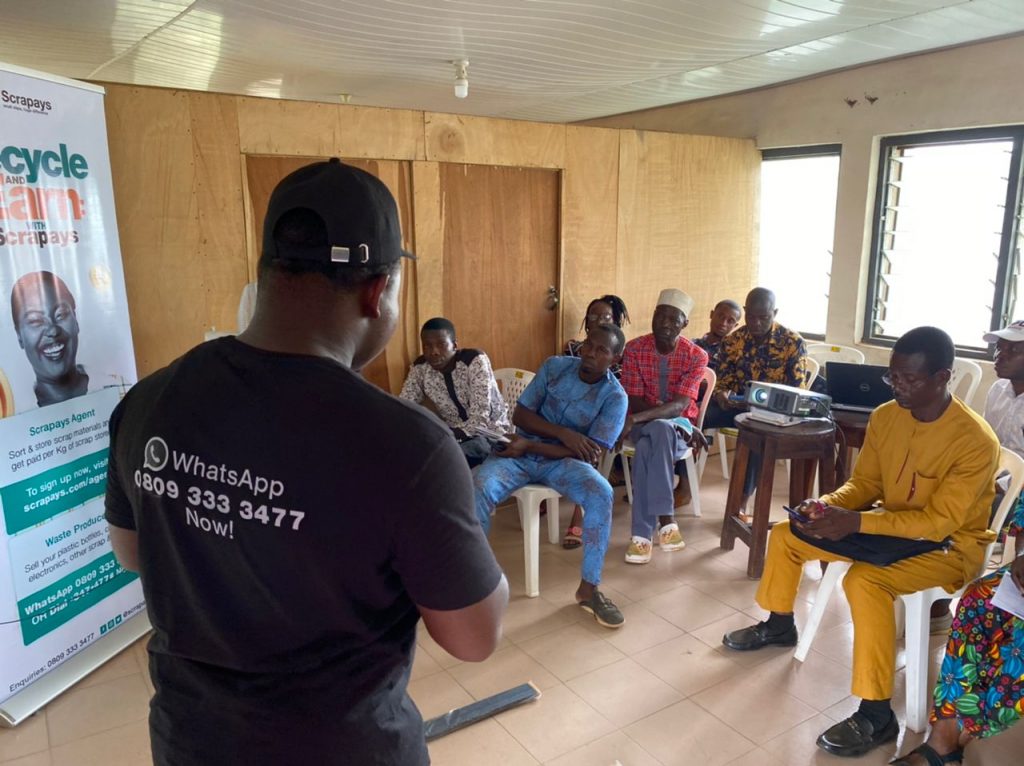 What inspired you to start Scrapays?
It was mainly the result of a story that I can't forget. At the eve of my 12th birthday, something tragic happened. The nine-month old child of my neighbour died because of flooding. I was pretty young that but it made a lasting impression. A few years down the line, I went to study geoscience at university, studying topics such as soil management, water management, waste management. Their impact, how they correlate. During my penultimate year, my current co-founder and I even started a project around biological waste that won a national competition.

Where I grew up, I saw very young or old people going around collecting plastics and the like. And it was very clear that they were struggling, they make less than $40 a month. And to me, these guys are heroes, because they're responsible for recovering 90% of recyclable waste in Africa. But there's no system in place that increases the standard of living for them. And that's one of the key things I'm proud of, within 3 months we already see a 45% growth in our agents' earnings.
Waste is a valuable commodity that people are willing to pay for

Bolu
Beyond that, about 65% of the agents that we have didn't even know much about recycling before starting their business. We have developed what I call  "Recycling as a Business"; it's a plug and play auto system where you don't really need to know about recycling before you become a Scrapays agent. We provide in-app training, we tell you how the system works, what you need to collect. We're trying to expand the market here, because in every locality we need people to serve as agents, collecting recyclables and paying people for it. People need to know that waste is a commodity which has value that other people are willing to pay for.
That sounds like a model that could easily be replicated and scaled to other countries, right?
Absolutely! As soon as we close our current round, we aim to immediately expand into three African countries: Kenya, South Africa and Uganda. And now we're in Ghana, I'm also thinking Ghana might be interesting, with the partnerships and contacts we have now. And beyond the sub-Saharan markets, we consulted with BCG and looked into similar markets in Latin America and Southeast Asia, where they face identical problems and our model could also work. And the way our model is structured, it's extremely asset light. We can literally start up everywhere, because we don't own the assets. Each person provides their own storage space and is running their own business. We provide them with the technology and the operational support that they need to easily recover the recyclables within their own environment. This makes it easy to expand and the business model is very much scalable indeed.
It gives me immense joy to be able to help people make a decent living, while recovering waste effectively

Bolu
What does your long-term plan look like, say maybe in 5-10 years?
Over the next five years, we're looking to be in at least 40 countries within the sub-Saharan market. Our goal is to increase recycling rates in each of those countries. And not just because of the do good ideology, but also because of the financial and business side of it. It gives people that don't have jobs, people living near the poverty line, access to a system where they can literally begin almost immediately with close to nothing, and improve their own circumstances. It's a movement that goes beyond recovering waste, it's also about getting people jobs, eradicating poverty. And give people that don't have bank accounts access to financial services.
We want to empower our agents with our technology and our tools. And it gives me immense joy to be able to help those people to make a decent living, while recovering waste effectively and ensuring it doesn't end up on landfills or in waterways anymore.
Follow Bolu's Scrapays online:
Website
Facebook
LinkedIn
Twitter
Instagram