The energy transition is one of the most important challenges of our times. Reaching 'net zero' requires both social as well as technological changes. While countries like the Netherlands and Egypt can set ambitious goals to become zero emissions economies, we also need smart, dedicated engineers and entrepreneurs to make that transition happen. Entrepreneurs like Orange Corners Cairo graduate Aly Mohamed. We spoke to Aly about his entrepreneurial journey, his company Seavo and the importance of protecting marine life in Egypt and beyond.
To start, could you quickly introduce yourself and your company?
My name is Aly Mohamed, I'm a graduate in mechatronics engineering and currently a MBA student at the American University in Cairo. So I combine the engineering and business mindsets. I've always been passionate about underwater robotics, especially marine robotics. With research groups at university I developed underwater robots, took part in national and international conferences and events.
Between 2015 and 2020, I temporarily shifted to biomedical engineering. Together with my research group, I developed a novel automated system and diagnostic test for hepatitis C. Back then many Egyptians, mostly low-income people, were suffering from HCV because of a low water and food quality. The UN recognised us in 2018 as one of the top 10 solutions worldwide. It was great to see that we were using our experience and knowledge to create something very beneficial for society, not just for the Egyptians, but for the whole continent. When COVID-19 hit, we used this experience to develop a local PCR test.
I realised that although Egyptians are good at science, the market has a different opinion. Our experience as engineers, professors and doctors is in the lab. But when we try to get novel technologies to the market, it's a little challenging. Even more challenging than developing the product itself. You need to be aware of the market and have this entrepreneurial mindset. So I decided to pursue a business degree and started Seavo.
So back to marine robotics?
Yes, I still had a passion for the underwater life. We have fantastic weather throughout the year and water and coastal tourism generates a lot of income for Egypt, mainly because of the coral reefs in the Red Sea. They're also a source for fish feed and raw materials for medicine production. But with climate change and the effect of CO2 emissions, the coral reefs and the underwater ecosystem are gradually dying. Egypt and the world can't lose this underwater life, because it has a huge effect on so many different levels. If we lost a km² of coral reef, we lose tons of fish. This affects people who rely on income from fishing. And also the food supply chain, the tourism industry. Which in turns impacts the hotels, the resorts, and everyone working in and around them. All because of this single small thing.
When it comes to sustainability, much of our efforts are focused on cities, mobility.. not so much on marine transportation – even though the whole world relies on ships to transport goods between countries. And they're still powered by fossil fuels. Their emissions, the oil leakages, have a tremendous effect on the environment. We need eco-friendly alternatives. We wanted to introduce a product that doesn't compromise the tourism industry nor the environment. So we try to replace fossil fuel vehicles for recreation and water sports by products that are more sustainable and more accessible to customers.
Right now electric products in the market are inaccessible or exclusively for niche customers. We want to make affordable products that are easy to use, so people can have a good time without paying too much for gasoline. We introduce our products and services step by step. Initially, we thought of Seavo as a fast rescue application, but we want people to familiarise themselves with our product first, before trusting it in rescue operations. And we have a huge impact on reducing CO2 emissions along the way.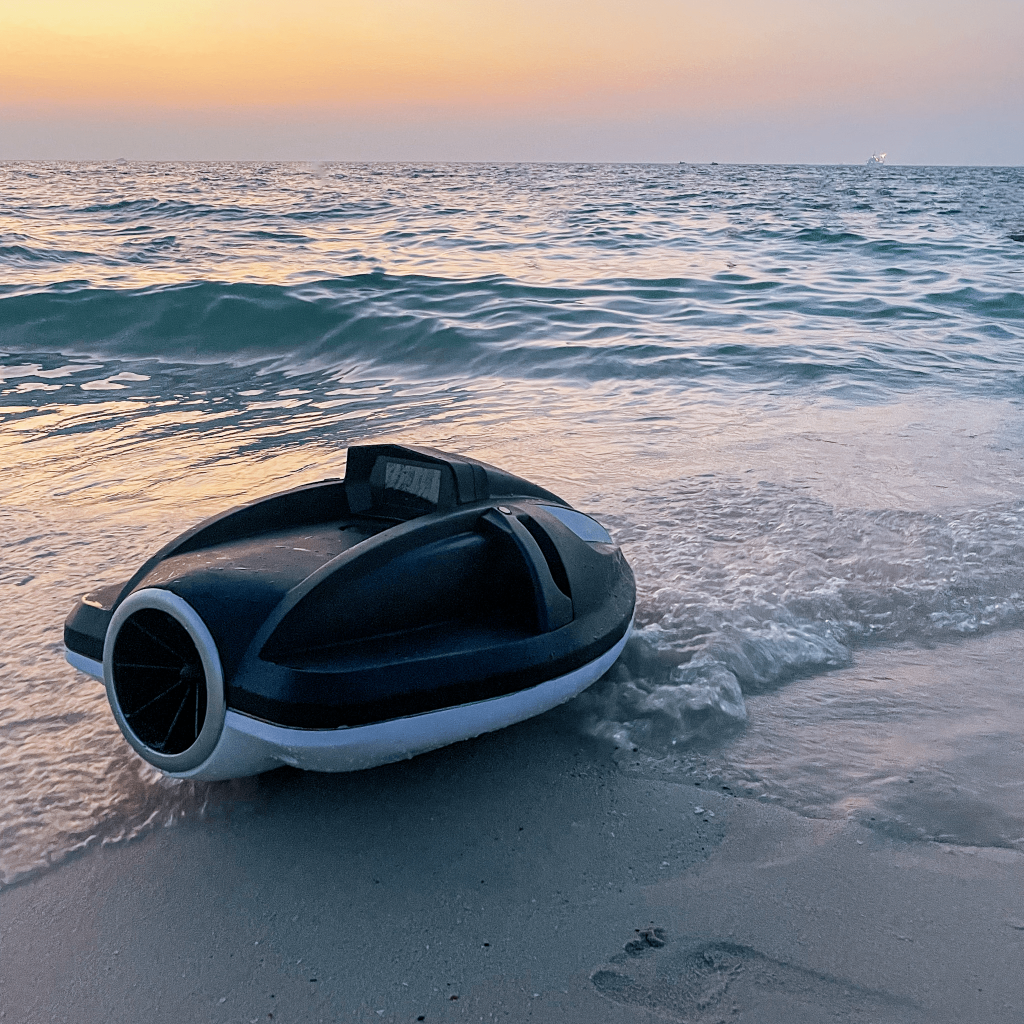 And you're about to launch your first product, right?
Yeah, we beta tested and pre-launched the product we developed and manufactured in Egypt and now we're in the post-production phase. In the coming months, we're going to launch our product not only in Egypt, but also in the GCC market, so at the moment we're focusing on getting the whole production line into the GCC market. We're almost ready: we got the certifications, the licences, everything.
Last year we manufactured a batch to test the market, to see how customers are interacting with our product, and how they're going to use it in the water. Based on the feedback we got, we made some changes. We successfully operated this batch last summer for three months, in some places we managed to eliminate more than a 1,000 tons of CO2, replacing thousands of litres of gasoline. This not only created value for Seavo, but also the community and the environment.
Aly is an entrepreneur in heart and soul. Throughout his Orange Corners Cairo time, he has proven himself as a top-notch entrepreneur ready to take on the international challenge. And of course the ORCA is a super cool product!

Erik Parigger – Programme Coordinator Orange Corners & former Programme Advisor Egypt
Last year we also saw you at some pretty big tech events. How has that experience been for you?
We're aiming to not only make a local impact. If you want to have that impact globally, you have to be there. The world is moving towards more sustainability, and we want to be one of the key players in that transition. We participated in Web Summit, one of the largest tech events in the world. This was our second year, and this time was even more beneficial for us than the first time. Out of thousands of products, we were nominated as one of the top 20 hardware products in the machine demo stage.. and we finished in the top 4. This is extremely exciting and gives us an indication that we're moving in the right direction, that we're doing something with a potentially global impact. And last June, we were also recognised by the WSA as one of the top 15 climate tech startups in Africa. The responsibility is a little overwhelming to be honest but it's exciting.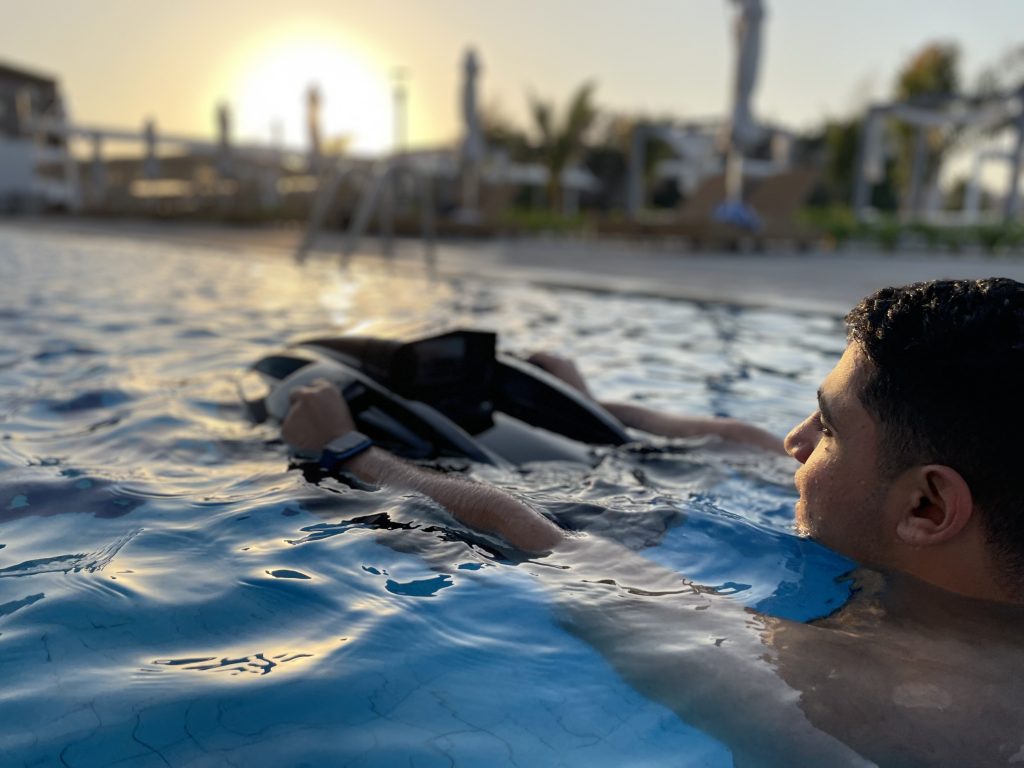 How did Orange Corners contribute to your success?
Orange Corners Cairo was one of the most beneficial experiences I've been through. They support people however they can. They have mentors from all over the place, with different expertise. And even if they don't have the facility or capability to help you at that point, they'll figure something out, they'll bring someone from outside to help you out.
And another important aspect which other programmes don't provide here in Egypt is the networking part. Not networking in terms of investors, but in terms of key players or decision-makers in Egypt. We for example connected with the Ministry of International Cooperation through Orange Corners, or key players from one of the most important banks in Egypt. They open doors to different places for us. The Dutch Embassy here in Egypt also supports us. Whenever we need something, they listen to us and try to help us any way they can. So the introductions, the networking, the mentorship part are all super important.
Something I admire about Orange Corners, and I'm not talking about Seavo here, is that they're trying to support people in places that investors aren't typically interested in or where ecosystems aren't in place yet, like in Upper Egypt. They do handicrafts, or something related to agriculture. For us it's a little different, but I see the power of empowering those startups in those sectors that typically no one's looking for.
Some final words of advice for fellow entrepreneurs?
Being an entrepreneur isn't about generating money or building a venture, I believe entrepreneurs have the ability to bring change to their community. The entrepreneurial life is like a rollercoaster, with lots of ups and downs, but at the end of the day entrepreneurs have lasting impact on their communities, their cities, their neighbourhood.. so keep going, seek support from other entrepreneurs and try to change the surroundings or community you're living in.
Thank you Aly for sharing your story, and we can't help but blush a little at your super kind words about Orange Corners Cairo. We couldn't be more excited about the launch of ORCA, your very first water scooter and hope to see you take Egypt, the GCC and the rest of the world by storm in 2023. Keep bringing that change!