Loubna Lasry is a connective-behavioral therapist, life coach and psycho pedagogue. Loubna is also an incubatee of Sports Orange Corners, part of the Orange Corners family worldwide. During a visit to our implementing partner Tibu Africa, Orange Corners HQ spoke with Loubna Lasry about her holistic approach and the use of new technology to treat patients.

Sports Orange Corners is located in the old Medina of Casablanca, the team of Tibu Africa has done an amazing job rebuilding the old and neglected elementary school building. Every spot of the venue looks fresh, the inside and the outside. In every corner there is a playing field, football, basketball, calisthenics and a gym are the shining elements of the new hart of the Medina.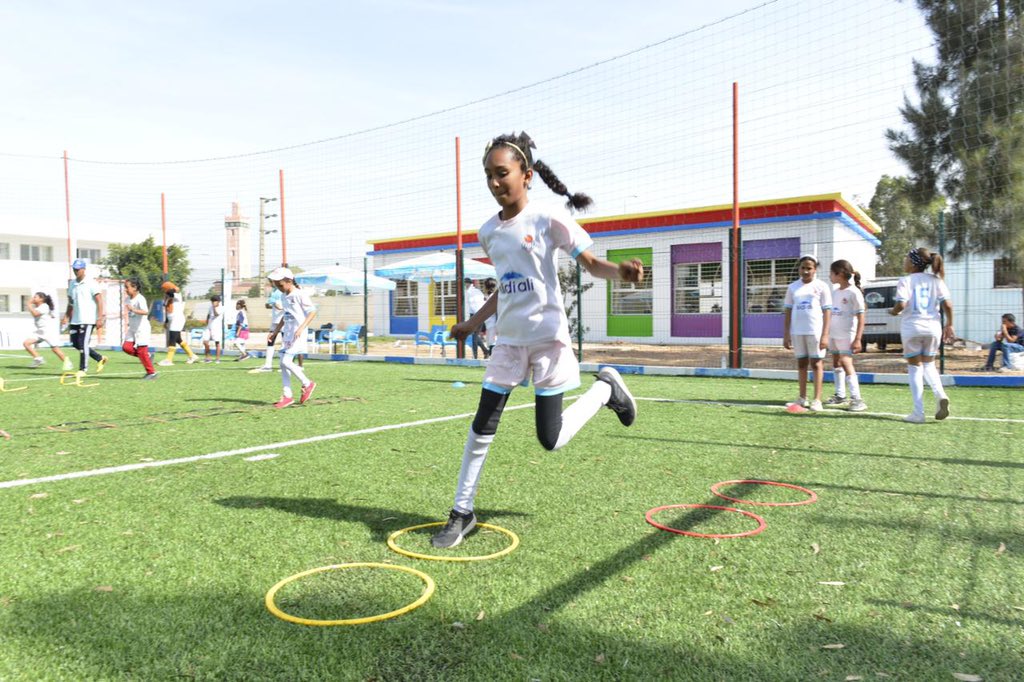 When you enter the area around the old school building, all you see are energetic people playing sports. But there is more! The old classrooms are now used for giving lectures and masterclasses. One of the lectures is held by Loubna Lasry. She is also an entrepreneur of the first cohort of Sports Orange Corners. After the masterclass, Orange Corners spoke with her.
Holistic House

"The idea is to start up a holistic house for psychology, nutrition and sports. Why? Because if you want to work with your hands, you have to touch your mind first. So the house of Holistic is based on three pillars: Sports, nutrition and the mind. A certain focus and dedication is necessary to make the treatment work. Convince yourself of the urgency for more exercise, better nutrition and a low stress level.

In my professional life, I had various patients who had problems with doing sports. It is critical to do sports for your health, but the patients didn't know how or didn't think they were able to. There are therapies, to resolve this, for example hypnotherapy of yoga. However, I use a new therapy."
Virtual reality

"IMy new therapy works with virtual reality. For example, if you are afraid of standing in an elevator, we put you in an elevator with the use of VR. So, when you are in that simulation, we can discover at what point you feel stress. And then we can handle the elevator issue.

My career as a therapist started almost 8 years ago. I am working with men, female and young people. I was working with women who were afraid of doing sports and also had an issue with obesity. They gave excuses not to sport. But, when I practiced the therapy with them, they accepted sport quite easily. The main idea is to let the patients comply with their mind first and then the body.

On average, it takes 20 days to 3 months to create an objective when the patient is eager to do all the sport activities recommend and is complying to all the other facets of the programme. Well, it depends on the person, but normally you can see results in body weight and the balance between mind and body in a period of less than 3 months. In other words, a happier and healthier person!
Ambition

"My big ambition is to have a center for addicted persons, because if addicted people have more exercise it lowers the addiction. There was a documentary about a camp with people with different addictions and after 3 months they all recovered. This documentary inspires me to work hard to fulfil that dream.
I also learn my clients and students to structure their ambitions. It begins with taking control of your emotions and making the right decisions based on facts. I teach them how to structure the brain like an Ikea closet, so they have control over it. I am a big fan of the Eisenhower Matrix, this model gives you an inside on your priorities. Canalize your emotions and structure your mind to challenge your ambitions effectively."
Social media

LinkedIN: Loubna Lasry | LinkedIn
Loubna Lasry – Personal development coach, Psychotherapist in Rabat – DabaDoc.com