We look back at a festive September month in Egypt, as Orange Corners Egypt celebrated the graduation of 28 entrepreneurs from its first incubation cycles in Cairo and Assiut.
On 13 September, Orange Corners Upper Egypt welcomed 16 entrepreneurs to the stage during a physical ceremony in Assiut to receive a certificate celebrating their achievement. On 27 September, Orange Corners Cairo organised their showcase event featuring 12 graduating entrepreneurs via a broadcast on YouTube.
Live graduation Orange Corners Upper Egypt
Our implementing partner of Orange Corners Upper Egypt, Outreach Egypt Consultancy for Development, was very pleased to celebrate the graduation of 16 entrepreneurs this past month. They are:
Maan – An initiative that focuses on recycling paper waste to create home accessories and alternatives to traditional wallpaper, wood, plastic and artificial stones.
ReJeans – A sustainable brand that recycles old denim pants into new clothes with the aim of reducing waste created in the textile industry.
Nanolla – A business that sells handmade accessories online for women such as necklaces, earrings and bracelets.
Anna – A handmade accessories brand that targets both men and women and focuses on bracelets and necklaces.
Al Hasnaa – A women and children's casual clothing brand. It also provides tailoring services for individuals and shop owners.
Snacks Fully – A business that produces sun-dried fruits and vegetables as natural and healthy alternatives to sugary snacks.
El Ztouna – An online e-learning platform that provides high school students with additional classes in different subjects to support them in their studies.
White Orchid – A fashion design studio for tailor made women and children's casual and evening apparel.
Yasmeen – An art gallery specialising in sculptures and carvings using marble, gypsum and clay.
MK Masreya – An Egyptian sub-dried tomatoes brand that hopes to preserve the agricultural surplus of tomatoes and reduce food waste.
Nadoo – A business that designs and creates handmade macramé home accessories such as cushions and wall hangings.
Scorpion – A business that extracts scorpion venom for use in the pharmaceutical industry.
Cadeau – An e-commerce platform that connects shoppers to gift stores. The platform creates recommendations to help customers find the suitable gift for any occasion.
Ring & Bracelet – An online silver jewellery store that provides an easier shopping experience and delivery to your doorstep.
You Design – A business that provides web development & web design services.
Roma Dahab – A women's handicraft training centre in Assiut that focuses on carpet making and pottery.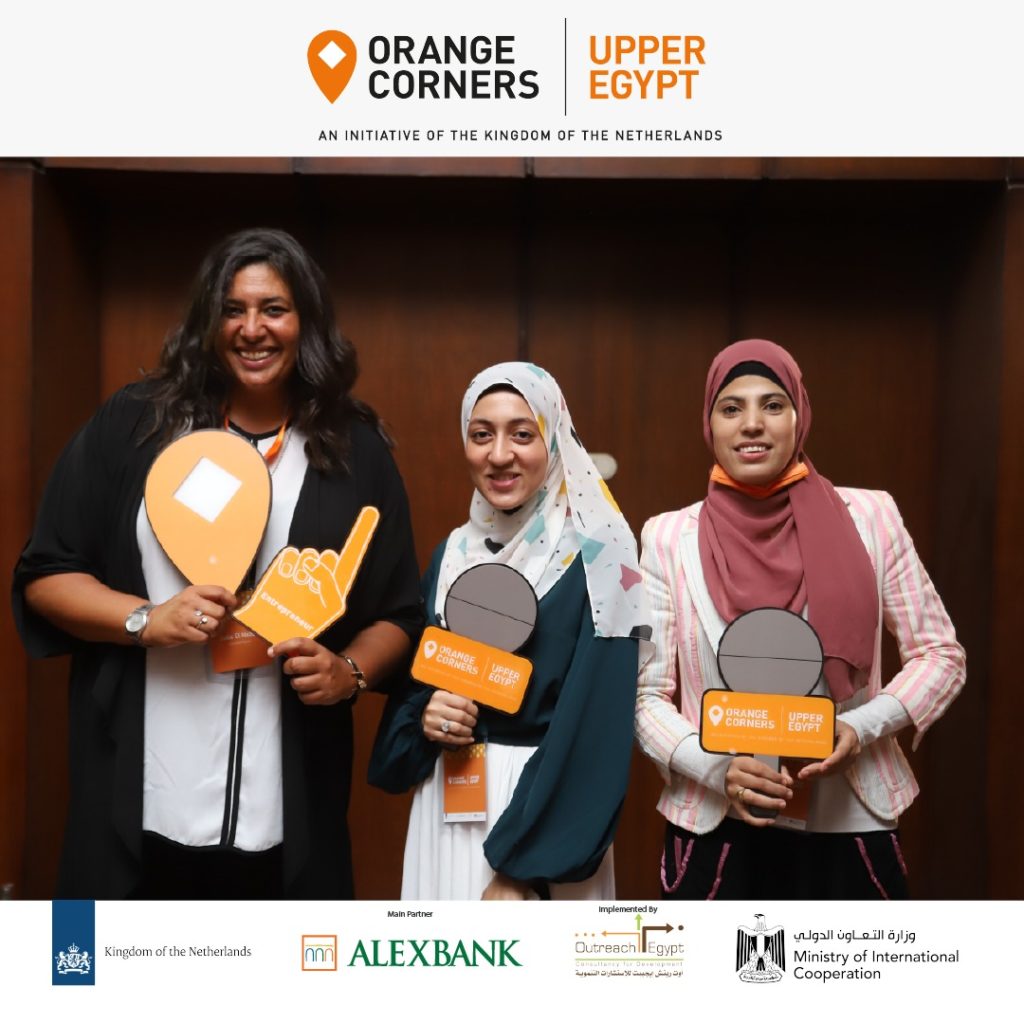 Online graduation Orange Corners Cairo
Orange Corners Cairo's implementing partner, Cultiv, celebrated the graduation with an online broadcast.
You can (re)watch the graduation via this link.
The 12 entrepreneurs featured are:
Tagreebi – Tagreebi provides a fresh perspective, insights and experiences to everyday objects, interactions, spaces and setups while enhancing the retail user experience and providing relevant data and analytics with the use of AR technology.
Roofy – Roofy is an enterprise that aims to decorate different surfaces (gardens- rooftops – cafes – restaurants) by adding an aesthetic touch through creative and adaptable designs.
Divine – Divine is a scarf shop with a twist as they provide a whole experience for hijabs to help women face the barrier they face throughout their hijab journey. By providing customers with innovative products like the no-pin scarf, they help the customers to choose the right scarf that matches their skin tones, teach them how to wear their scarves, and uploading useful content posts.
Mashanna – Mashanna is specialized in selling fruits and vegetables at a good price and with good quality, with a vacuum packing. They offer seasonal products throughout all seasons with a longer expiry time of each product.
Saroucha – SAROUCHA is Rasha & Sara's brand name. The business was launched in 2015 and became an instant hit in the field of handicrafts. SAROUCHA is offering high quality Egyptian products that merge modern trends with Egyptian culture and heritage, while building their business on the basis of Sustainable Development Goals (SDGs 1, 5, 8 and 10), amongst others through empowering women crafters and sticking to eco-friendly packaging.
Tripsy – Tripsy is an application that connects domestic tourists with domestic tourist destinations (travel agencies, museums and parks) and offers online booking and payment.
Mama for Cushions – Mama for Cushions is specialized in selling customized handmade decorative cushions and home accessories at a reasonable price and with great quality.
Forsa Tania – Forsa Tania is the first social networking platform dedicated to mental health around the world, while providing various treatment packages for free or at subsidized prices, each with different features.
SOS – SOS is a roadside breakdown assistant app that connects riders with service centers and road support service providers. They provide high-speed service with affordable costs and billing.
Healthawy – Healthawy provides light, healthy and useful snacks for students and employees who need healthy snacks in their day as well as fpr athletes and people who follow a healthy lifestyle.
Homrz – Homrz is an online platform to support, develop and market for small industries and handicrafts, while connecting them with direct (national and international) customers.
Handfy – Handfy is an open platform built as a web application and a mobile application that provides people with the ability to buy and sell creative products and handmade products that reflect their personalities and needs.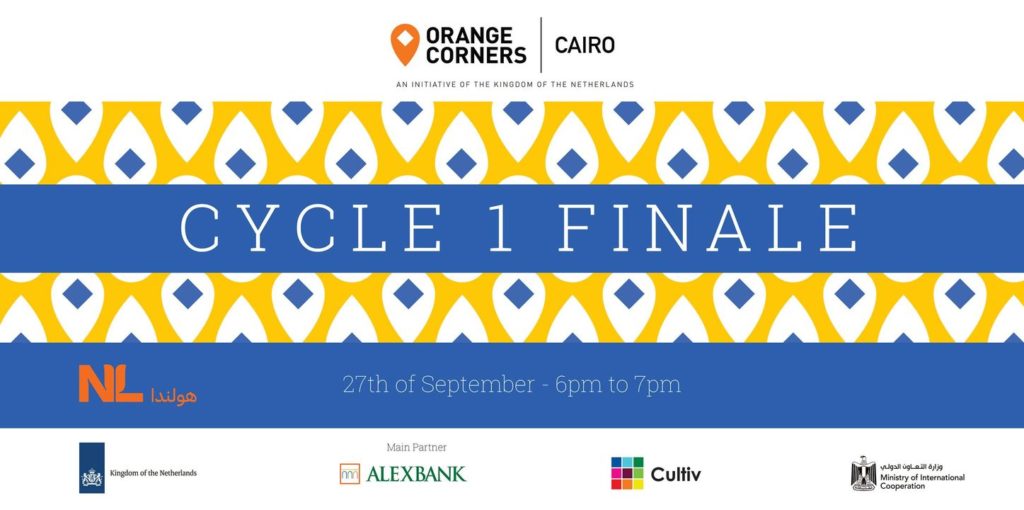 Congratulations to all hardworking 28 entrepreneurs! We look forward to following the continuation of your entrepreneurial journeys and keep supporting you via our alumni activities (including the recently launched global Orange Corners alumni community) and follow-up support.
About Orange Corners Egypt
Orange Corners Egypt is an initiative of the Kingdom of The Netherlands that provides young entrepreneurs with training, networks and facilities to start and grow innovative businesses. The initiative consists of two separate incubation programmes – one in Cairo and one in Upper Egypt (Assiut) – each of which offers recurring 6-month training cycles for 15-25 entrepreneurs at a time. The entrepreneurial training pays special attention to startups in agriculture and the creative sector, and ensures a minimum of 50% participation of female entrepreneurs.
Orange Corners Egypt is supported in-kind and financially by ALEXBANK, and operates under the patronage of the Egyptian Ministry for International Cooperation.
Do you want to learn more about Orange Corners Egypt, or get in touch with our implementing partners and/or one of the entrepreneurs? Please contact the programme advisor for Orange Corners Egypt, Erik Parigger, via [email protected].