With Orange Corners Morocco (La Caravane) in its fifth cohort, it's worth remembering some of the special stories that emerged from the programme. We sat down virtually with Yassine Bentaleb, who participated in the third edition of La Caravane and even won the OCIF prize. We chatted about his efforts to tackle food waste through Foodeals and his experiences with Orange Corners.
Hello Yassine, great to meet you! Could you introduce yourself and tell us something about your business?
My name is Yassine Bentaleb and I'm from the Moroccan city of Fes. I'm an entrepreneur, aiming to tackle global food waste. Foodeals is a global food waste management system. Currently, we're based in Fes and Rabat, with hopefully more locations to follow in the future. 

As Foodeals, our mission is to reduce professional food waste and promote a circular economy around unsold products or products with a very short shelf life. We do this in three ways: the Foodeals DLC, the Foodeals Market and Foodeals Donate.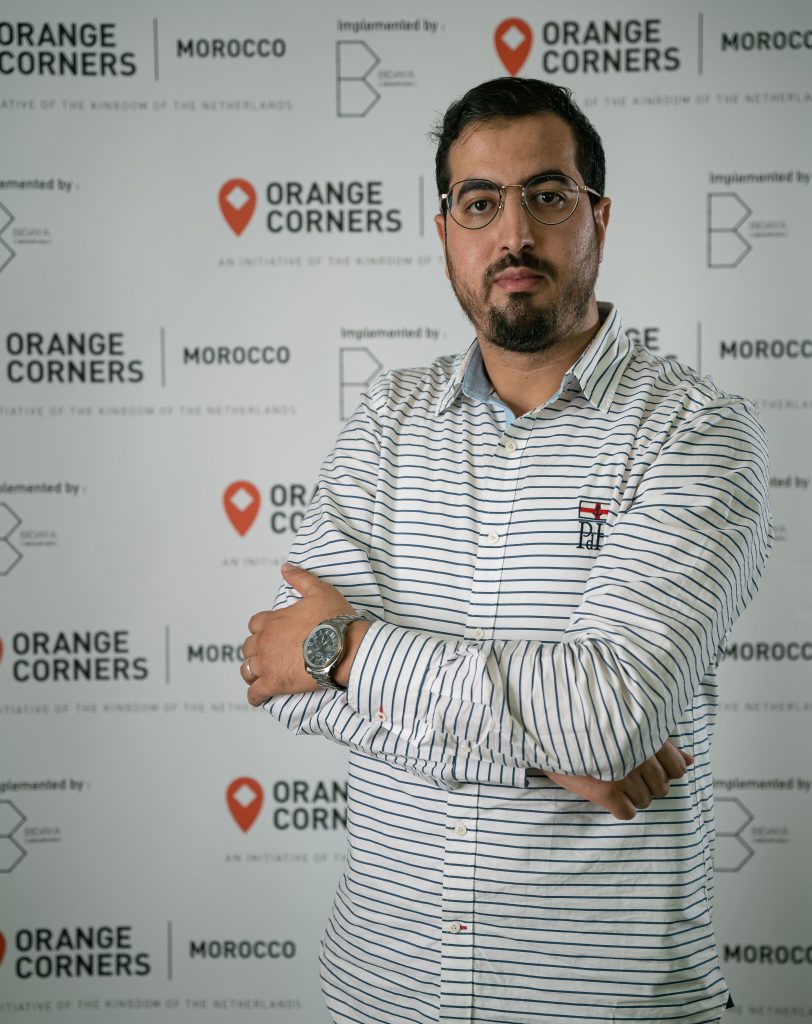 The Foodeals DLC is an app that manages expiration dates, which enables shopkeepers to detect affected products easily and efficiently. The revalorisation of these products is ensured by an integrated AI that automates the decision-making process for applying an appropriate promotion or making a donation. The Foodeals Market is an online sales interface that connects professionals with consumers in real-time to sell them anti-waste products at reduced prices. And Foodeals Donate enables them to propose donations and pass these products on to partner NGOs in complete transparency.

Foodeals' promise is to transform potential lost revenue into an opportunity for food sellers, while improving purchasing power and expanding the average customer basket. In addition, we offer charities the chance to benefit from a regular, high-quality supply of foodstuffs. Finally, Foodeals' initiatives aim to protect the environment by reducing greenhouse gas emissions linked to the destruction of out-of-date food products.
Foodeals' promise is to transform lost revenue into opportunities

Yassine Bentaleb, Foodeals

A big change from marketing to food waste management. What inspired you to tackle this issue?
After obtaining a marketing degree, I set up my own business where I managed events for clients. That's where I saw a lot of food waste. We'd end up with uneaten buffets, but our partners had no efficient process to revalorise these products. So I decided to work on a solution for that problem, Foodeals.

It was definitely not easy shifting from marketing to food waste management, especially in the beginning. It was challenging, but we found space for Foodeals to grow and that's what we keep focusing on. We have the right mindset and are fully set on making impact. 
That's a wonderful development! Let's go a bit back in time: why did you apply to OC La Caravane and how's your experience been?
A friend of mine drew my attention to the programme and said it was a good opportunity in several ways: funding, networks, training. Orange Corners was the first programme I came to know which focuses on entrepreneurs.

My experience has been really quite positive. During the programme, we received a lot of guidance and help from the Orange Corners partners. We were asked about our needs and what we needed support for. It was a very crucial step for the development of Foodeals. I also appreciated the follow-up from the team. Beyond the funding, which holds its own importance of course, what I valued the most were the frequent check-ins and the doors that it opened for us. This experience has proven to be incredibly important.

I believe we owe our access to the market wholeheartedly to Orange Corners. They gave us interesting opportunities for visibility. We participated in several trade fairs, such as SIAM and Pollutec's Global Green Forum. And now again the SARA in Abidjan during the first week of October.
I believe we owe our access to the market wholeheartedly to Orange Corners

Yassine
Orange Corners continues to play an important role for our business. For example, recently we also had a meeting with Orange Corners Egypt which resulted in introductions to partners in Tunisia. We finally met them at the last GITEX event, and through them, we gained access to other markets as well.
Do you have any special plans for the future?
Foodeals collaborates with various stakeholders and institutions who facilitate the work. Currently, we're pursuing two main objectives: firstly, we're trying to develop new partnerships with various Moroccan supermarkets and firms; and secondly, we strive to expand to Tunisia and Egypt, which are relatively similar markets. To achieve the latter, we're working hard to establish our position in the Moroccan market. And we're already in talks with Egyptian parties to discuss this possible expansion. In addition, we just launched our new website!

Those are some exciting prospects. Finally, Yassine, are you willing to share a piece of advice for starting entrepreneurs?
Consistence is key. And I also want to highlight the importance of liking what you do, being passionate about your work. Together, these two ingredients make a successful recipe. The relationships that we have with our partners is built on passion and drive, and in exchange, our partners help us realise our goals. Once you present yourself with confidence, consistency and, above all, hard work, this passion will be recognised by others and surely rewarded!

Follow Yassine's Foodeals online:
Website
LinkedIn Yassine
LinkedIn Foodeals