What do you know about the Kurdish culture? That daffodils are special to the Kurdish people? That there's a Kurdish version of Romeo and Juliet? Entrepreneur Huda Sarhang, Orange Corners Erbil graduate and founder of Lala Candles, takes us on an inspiring trip in the Kurdistan Region of Iraq. And along the road we'll touch on her personal journey as an entrepreneur, how Orange Corners contributed to her success and the challenges of doing business in Iraq.
To start, could you quickly introduce yourself and your company?
My name is Huda Sarhang and I'm the founder of Lala Candles. I hold degrees in Politics and International Relations – quite far from the field that I'm currently working in! In 2017 I started Lala Candles, the first candle-making business in the Kurdistan Region. I was inspired by the Kurdish culture and wanted to create a product that captures all its elements. Lala Candles started as a home-based business, first as a hobby, and it developed from there. I participated in so many programmes and workshops to develop my business skills, as I had very limited experience in that. Now Lala Candles provides jobs for women, mainly women with limited access to work, such as victims of violence. We try as much as we can to make a social impact as well, to encourage women.
With Lala Candles, we do three things. First, we create candles inspired by Kurdish culture, with designs related to our past, history, heritage. We sell these products online and offline. We also offer white label services for companies and organisations that want to order large numbers of candles, for instance as gifts for events. For example, we did a project for the Deputy Prime Minister of the Kurdistan Region where we really flourished. They gifted our candles to the diplomatic missions in the Kurdistan Region, and that was exactly what we were looking for.. because the candles have cultural elements, they tell a story.. and they make the perfect gift for this audience. We initially started this business to create hand-made products that foreigners who come to enjoy the Kurdistan Region would want to take back as souvenirs. Recently we also started offering candle-making workshops. If you want to forget the stress of the week, you can come to our studio with your friends to make your own candles.
Last year we moved into our new studio and this year we'll move into an even bigger space, because business is going well and the demand for our candles is high. With the Orange Corners Innovation Fund that we recently won we can take another step ahead. So there's a lot to do!
For those of us not familiar with the Kurdish culture, what is the relationship between your candles and Kurdish culture?
Unlike in Europe, using candles is not very popular in the Kurdish Region. But there's a specific audience that really cares, and now the economy is getting better there's a shift in the mood too. People take care of decoration now, they want have a nice atmosphere at home. That's why we thought of candles. And personally I love candles, I use them a lot. So before thinking of candles as a business, it was personal.
The Kurdish culture is a beautiful, rich, colourful culture. For our candles, we choose jars that are part of our culture. For example, a key product is the machko candle. This is a candle made inside a traditional tea glass that tea shops here use. And it's decorated with little shoes that men wear with their traditional clothes, and pieces of fabrics that are part of the Kurdish culture. In this way, our product tell a story. I got the idea to create this candle when I was having tea at a traditional tea shop in Erbil with my husband. I made it for myself, gave it to family, friends – everybody loved it. And from there it started.
We have other candles, named after things we are inspired by. We have a candle called Mam u Zine, named after two Kurd lovers. They're like the Kurdish Romeo and Juliet. And we also have a candle inside a pot called Dapira, which refers to our grandmothers and the way they cook. And the scents that we use for the candles, they're also inspired by our culture. Like daffodil for example – our national flower. Through our candles, we show the beautiful aspects of Kurdish culture.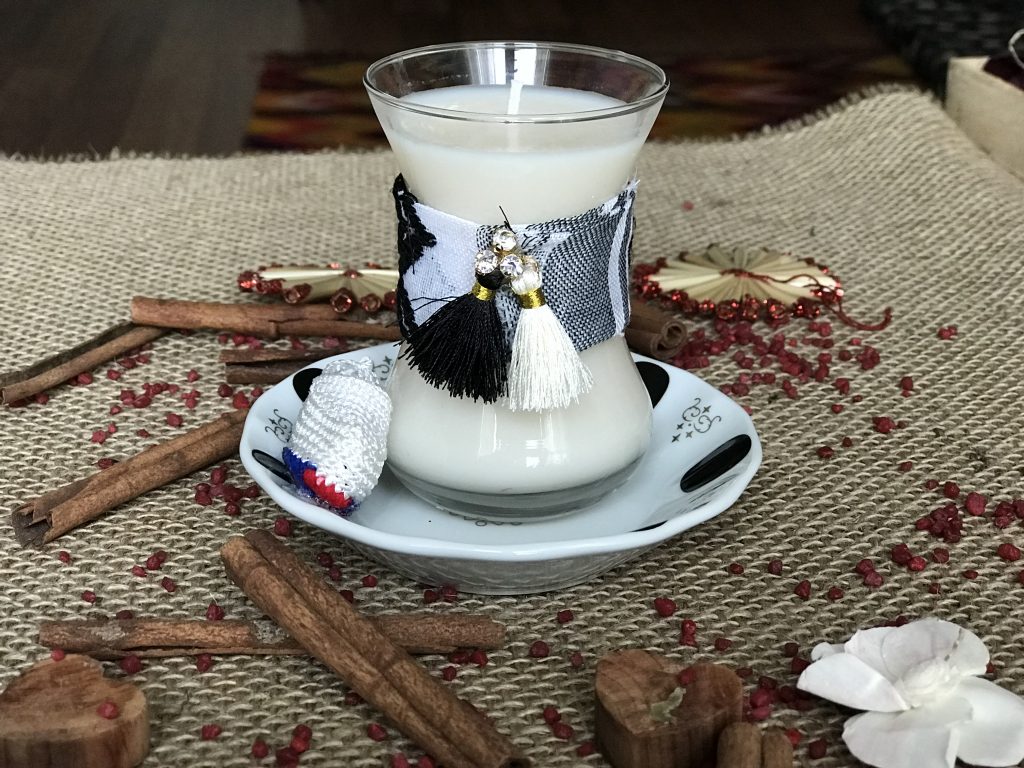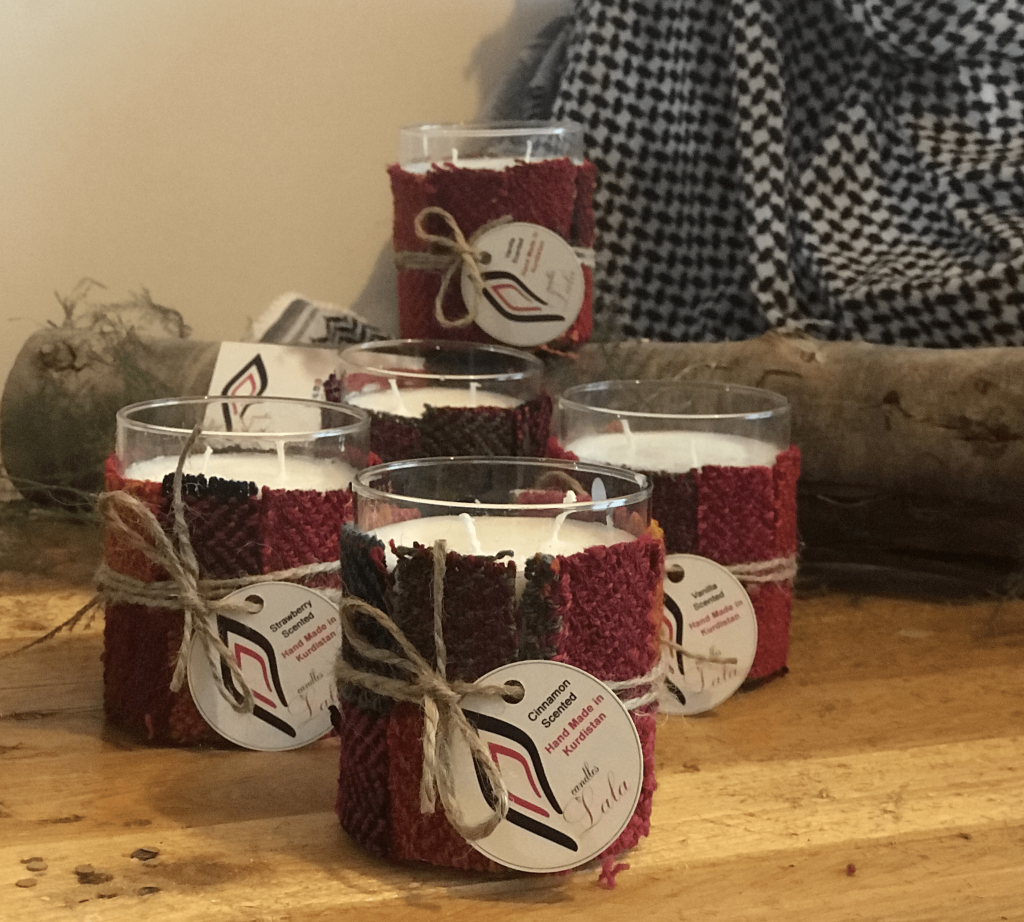 What are your dreams as an entrepreneur?
Dreams are really nice. And this business itself started with a dream. I hope that in the future this will become a very sustainable business which represents our culture in the best way. I'd also love to have a bigger space where we can employ more women, inspire more youth and have more friends and family come over who consider our space as a comfort space.
One of the things that I really dream of is expanding regionally, to the Middle East, and also shipping to Europe. This is still complicated because of the logistics. but we're working on that, and maybe in the future you'll be able to get the candles wherever you are. Hopefully with a lot of work and energy it shouldn't be impossible to achieve.
How does Orange Corners fit into your story?
I'm part of the first cohort, I graduated a few years ago. And recently I won an OCIF grant. Orange Corners was a good experience. A few years ago it was quite difficult to find programmes specifically for entrepreneurs, on how to develop your business and how to manage it, from finance to marketing and logistics. Luckily I got admitted to Orange Corners. I benefitted greatly from the network, the people I met there. They have the same mindset, the same mentality, everyone is dedicated to achieving their dreams. The materials that were presented, the support and the knowledge we got were all very helpful. When you go into a fight or into a battle, you need to have your own weapons. As entrepreneurs, to have a successful business we need weapons such as knowledge, sharing experiences and motivation. We got all that though the programme.
Are you still in touch with the people from your cohort?
Yes of course! There were a few people I already knew, but it was also a good opportunity to get to know other people. Programmes like Orange Corners bring us all together, now we have this big network of entrepreneurs in the Kurdistan Region. We reach out to each other when we need help or want to collaborate. It's important to maintain these relationships, which I make sure to do.
So what happened after Orange Corners?
After Orange Corners I needed some time for reflection on what I had learned. We had been given so much information, I needed a little time to digest it and start to implementing it. You get information on paper, by listening to different mentors, trainers.. and after that it's up to you to use it practically. I was able to focus more on the Financial side of the business, spending, income, all that. And marketing, which was one of our weak points, as we didn't really know how to market ourselves. We used what we learned after Orange Corners and after three years, here we are.. expanding, winning a grant! We're very proud of that.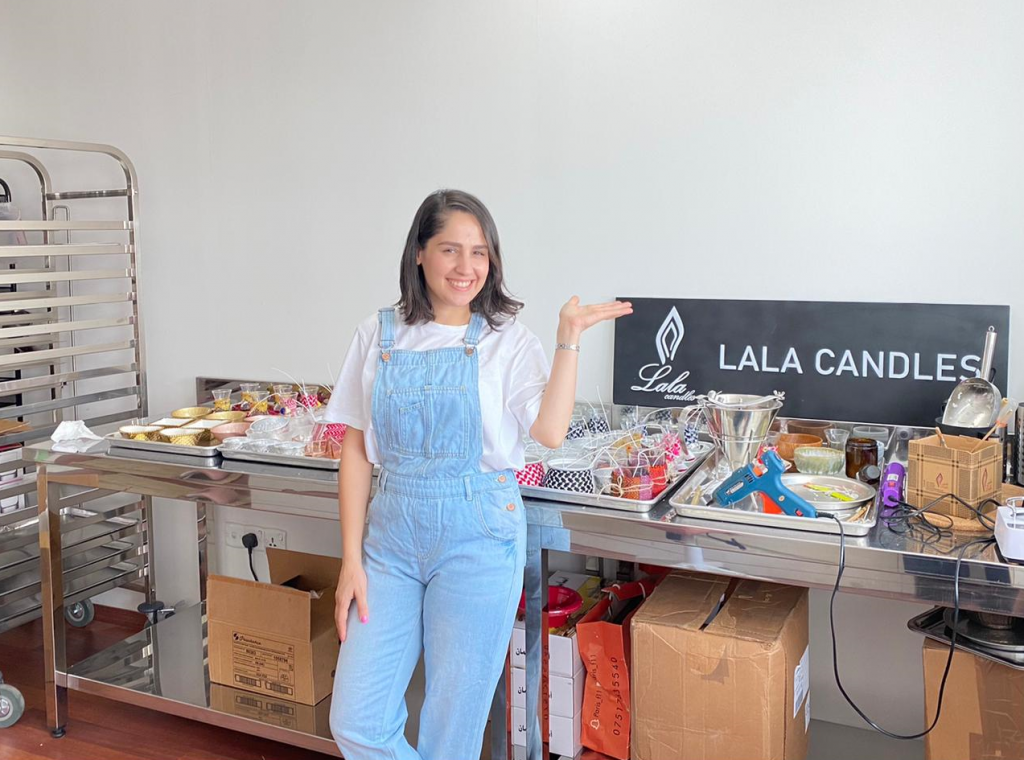 If you think of your milestones as an entrepreneur, would that be one of them?
Yes, absolutely. But there are more. First we started at home, and then we participated in programmes like Orange Corners, which led us to think of larger production, better marketing.. which led us to think of moving to a space where we could have people with us. And then the OCIF loan and grant we won, another milestone which allows us to think of expanding even further and move to an even-bigger space. In just five years, we moved from the kitchen to a space where people come to take workshops!
This sounds like a road full of highlights, were there also things you struggled with?
Absolutely. There's a big gap in our market, which is promising, because you can fill this gap and there's a high chance of success if you work in a smart way and put the needed energy into it. But there are also challenges, for example with regard to raw materials and inflation in prices. And how to convince customers that locally-made products are equal or even better than anything you get from abroad. You need to convince people that it's worth to pay more for a hand-made product than a factory-made product. And a major challenge that we're currently facing as entrepreneurs is that we have a poor banking system in Iraq in general. Many of us depend on online sales. But we're hoping this will also be solved, because there's no problem without a solution.
What would be your advice for young entrepreneurs?
My advice would be: when you start a business, you need to know why you're doing this, what's your reason behind it? After that, focus on how to do it. But most importantly, you need to be passionate about the things you're doing. Don't duplicate what works for other successful entrepreneurs. Study as much as you can, collect knowledge as your weapon, so you can do what's needed for your business. But be passionate about the product or the service that you offer. And keep in mind, you don't only want to benefit yourself, but also the market.