Through our incubation and acceleration programmes, we support young entrepreneurs in Africa, Asia and the Middle East to turn innovative ideas into sustainable businesses. Quite literally, in Celso Ferreira's case. With Zambezi Eyewear, he produces sustainable eyewear made from local raw materials. His goal? To provide those in his community suffering from vision problems with affordable and sustainable eyewear options. We sat down virtually with Celso to talk about Zambezi, his entrepreneurial journey and his vision for the future.
To start, could you briefly introduce yourself and your company?
I'm Celso Ferreira, 30 years old and born and raised in Maputo, the capital of Mozambique. I'm an entrepreneur with a background in accounting and auditing. My company is Zambezi Eyewear, a company producing sustainable eyewear from locally sourced raw materials, such as sandalwood. Sandalwood is a very special wood to us Mozambiquans, it's like the national wood. My team consists of local Mozambiquan artisans, who produce our frames by hand.
What inspired you to start Zambezi?
My vitiligo was the key really. Vitiligo is an autoimmune disorder that causes patches of the skin to lose pigment or colour. It led to a genuine search for who I am. Vitiligo allowed me to discover my unique uniqueness, to understand my own identity. And this led to the creation of an authentic brand that transmits the Mozambiquan cultural values and traditions.
What made you apply to Orange Corners, and how has the experience been for you?
I think Orange Corners is a very good initiative that connects people, companies, projects and causes, that seek socio-environmental transformation. That's why I applied for Orange Corners. Orange Corners Mozambique helped me become a better entrepreneur. Through the programme I have access to a knowledge-rich platform, to a large network from people all over the world. It gave me the opportunity to connect my local brand with a worldwide movement. And it's also been really nice to connect with other local entrepreneurs.
Is there anything you are particularly proud of?
It makes me extremely proud that consumers choose Zambezi over other brands in the market. The eyewear market contains many brands, there are many options. When they choose Zambezi I feel very proud.
I think these days consumers are more aware of their choices. They consciously decide to buy our ecologically sustainable products because of their long-term benefits for the environment. Our loyal customers are engaged with causes like the health of the environment, and they know the concept of sustainability benefits them.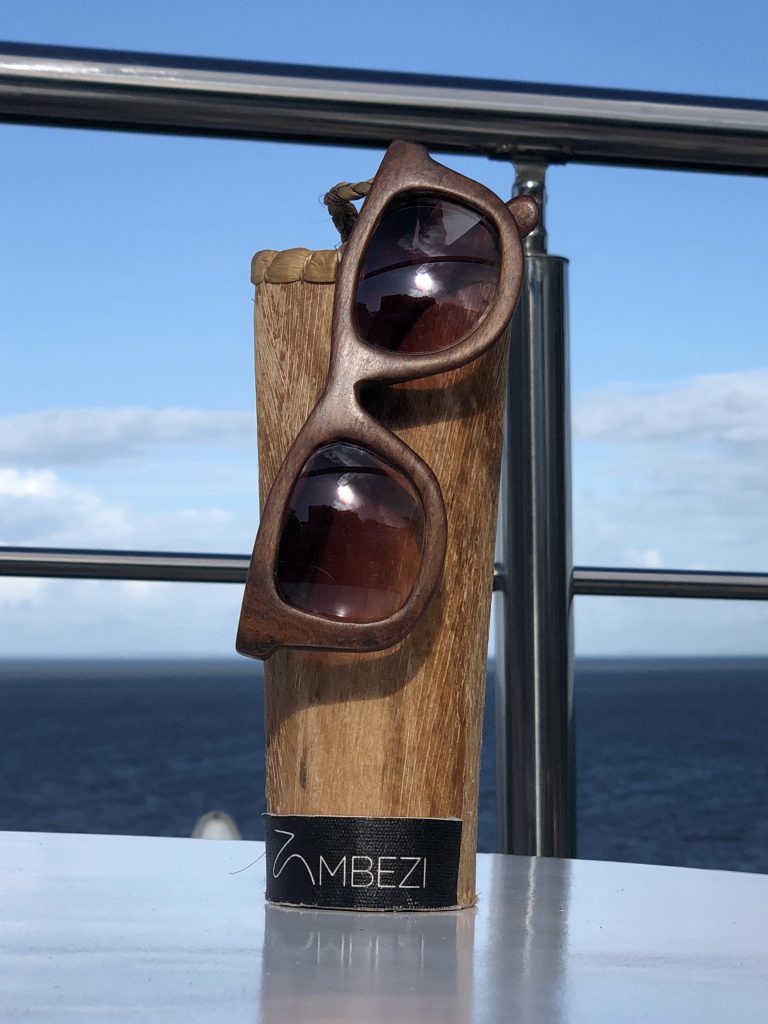 What are your plans for the future?
My biggest challenge is to act in a transformative way, to mobilise society to build a better world. I want to make an impact and transform the lives of people. With Zambezi, we aim to democratise access to eye health and vision. The rate of eye disease in developing countries is high, and this concerns me. Reports indicate that sub-Saharan Africa faces many eye health issues, and I want to deepen my knowledge about this and understand how we can improve in this regard. My plan for the future is to find innovative solutions for this and guide the population to take better care of their vision.
What would be your advice to young, aspiring entrepreneurs?
My advice to aspiring young entrepreneurs is that we should take action to build a better world, raise standards in a sustainable way. To be successful you have to be consistent and be resilient, because working in sustainability is very testing. It's not yet the market standard, but it's growing and developing. So find purpose and meaning in your life and contribute to a better quality of life and social well-being.
Follow Celso's Zambezi online:
Instagram
Facebook