If you've ever visited Ghana's capital Accra, chances are good that you've spotted one of the many ShaQ Express bikes and cars on the road. Delivering food, packages, or even medicine. ShaQ Express founder and Orange Corners Ghana graduate Anthony Owusu-Ansah started only three years ago, but already employs around 200 people. Your travelling reporter visited the ShaQ Express HQ during a recent trip to Ghana to meet Tony and his team and question Tony about his business and his participation in the first-ever OrangeCorners x Forward Inc Alumni Accelerator.
Hi Tony! Could you quickly introduce yourself and your startup, ShaQ Express?
My name is Anthony Owusu-Ansah. I started ShaQ Express three years ago as a traditional delivery company, with the idea to connect people to their packages. And as we picked and dropped items, I quickly realised that there where many communications gaps. For example, people would first order their food somewhere, and then they'd call us again to pick it up and drop it off. To increase efficiency, we decided to build a one-stop shop platform: a super app where customers can find everything that they need and get it delivered to their doorstep.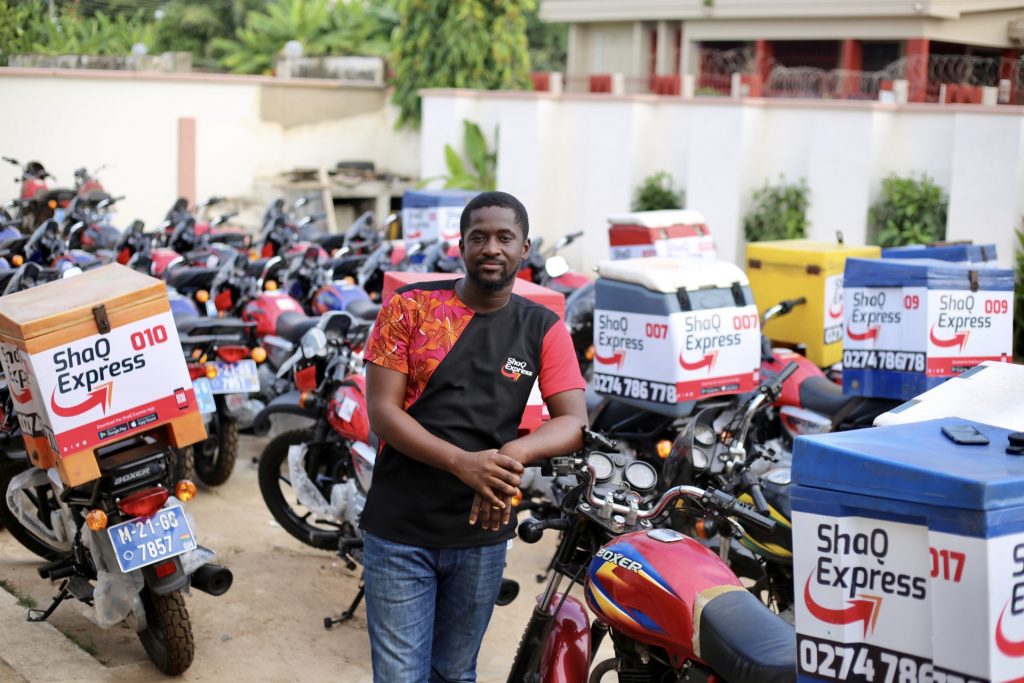 So when you go to our website and download our app, you'll be able to order food through the app and get it delivered to your house. You can shop online, from groceries to watches and clothes. We're also an online pharmacy, where you can upload your prescription, pay for a drug and get it delivered to you. And we partnered with some Ghanaian hospitals to set up a virtual clinic, where you can book consultations with doctors. And we just launched our home services, where you can find handyman like electricians, plumbers or carpenters. We give you convenience: reach out to us and we'll give you anything you need!
Interesting! Out of all these options, what do people use the most?
Currently the courier delivery services are generating the highest revenue, that's what people use most. It generates more than 65% of our revenue. They also order a lot of food. E-commerce and the online pharmacy are fairly new, but people are beginning to realise that they can also order drugs online. But our core business is the delivery service, on that all the other things are built.
Is there a big market for tech app like yours in Ghana?
There aren't many apps doing what we do. There are some apps that do one of the things we do, like for example food only, but not everything. Smartphone usage is very high in Ghana, people are beginning to embrace this lifestyle and apps such as ours are becoming more and more popular. There's an app for literally almost everything. And we're trying to consolidate all these apps into one.
What does your team look like?
Our team is divided into those in the back office and those in the field. In the back office we have HR, finance, operations, the technical team, the product team. And then in the field we have the dispatch riders and drivers, the ones picking up and delivering the items. And behind them there's a team that monitors their movements, which ensure that these guys have what they need to do their work, taking care of vehicle maintenance and these sort of things. And another team that takes care of the customer service, fixing any problems that may arise. We currently have about 88 motorbikes and 5 cars. We love to have a large fleet, because the larger the size, the more people we can serve in a short time.. which allows us to increase our portfolio again.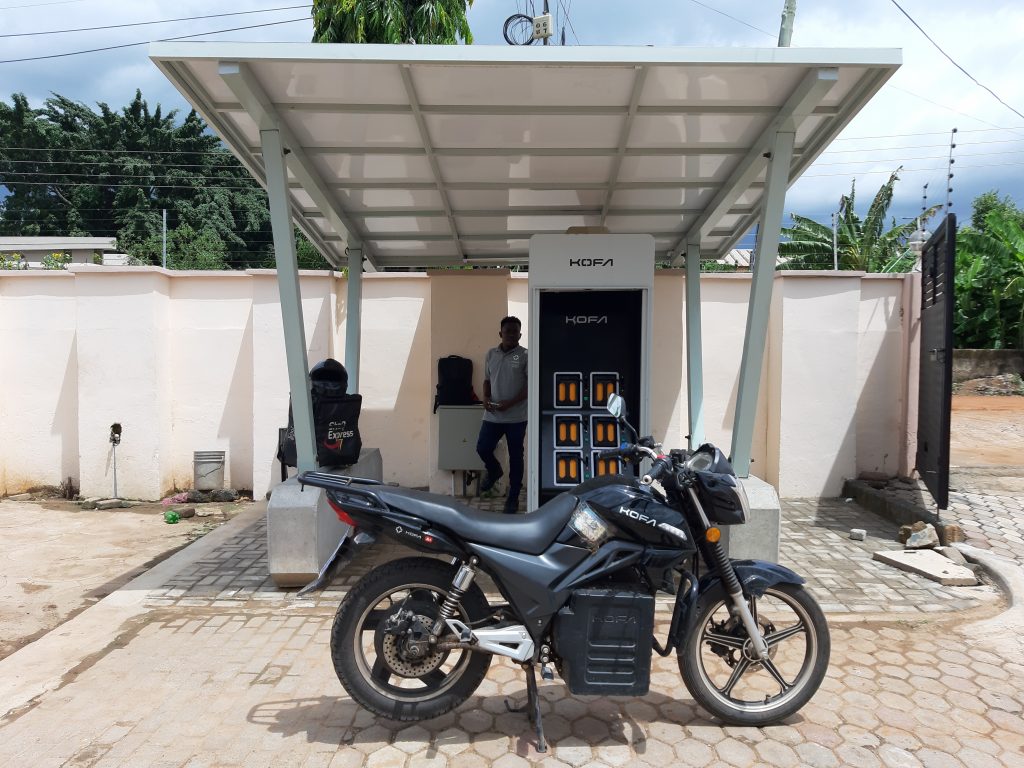 Can you tell us a bit more about your plans for the future?
Our mission is to be an African company. We don't want to limit ourselves to Ghana only, because we believe what we provide can give some level of convenience to a lot of users. So in the next 3-5 years, we want to scale beyond the borders of Ghana. We're targeting some West African countries and some East African countries. We're looking at Côte d'Ivoire, Nigeria, Liberia, Kenya, Uganda, Egypt and Tunisia. The last two I see as a gateway to Europe and the rest of the world. First Africa and then the rest of the world!

But we'll scale in Ghana first, of course. Not just in urban centres, but also rural areas. Wherever there's a smartphone, wherever there's internet, we want to be there. We're currently exploring different revenue models. Our current model is that we own the fleet, but we want to move away from owning a fleet to empowering fleet owners. And once this is done, we'll be able to scale outside Ghana. But first we'll go to every nook and cranny of this country before we decide to move to our neighbours and the world.
We don't want to limit ourselves to Ghana only. First Africa and then the rest of the world!

Anthony Owusu-Ansah, ShaQ Express
Besides scaling and international expansion, I want us to contribute to the sustainability of the environment that we're operating in. With a fleet our size, we have a considerable carbon footprint. So last year, we decided to start phasing out our fuel-dependent bikes and replace them with electric bikes. It also helps us to come up with better projections, as electricity is readily available and the price is more stable. Plus, we like to break the bias. This is still a very much male-dominated industry. If you take ten dispatch riders in Ghana now, ten of them are male. Electric bikes also empower our female dispatch riders, as many prefer riding automatic electric bikes over geared ones.
Is there anything else you do for your female employees, besides adopting electric bikes?
The first step is the adoption of a new bike, because it eases their entry into the company. The second step is that we train them, we certify them to ride a motorbike, provide them with the skills to do the job. And the third, to be able to enjoy what they do and generate interest, we offer an extra 10-15% increment in our wages to make sure that they earn slightly more. Depending on where and what days they work. We offer them flexibility: they get to choose when they want to work, how they work, so it's easier to combine with having a family. And we give them exposure and visibility as well. They themselves get motivation from our customers. Customers are happy to see female dispatch riders, they tip them well.
Our customers are super happy to see female dispatch riders

Anthony Owusu-Ansah
You're currently also taking part in our Forward Inc Alumni Accelerator. How's that experience been for you?
It's been really good so far. Sometimes the classes are a bit long, but in terms of networking, in terms of exposure, in terms of knowledge it's very good. The investor readiness classes were particularly interesting for me. The slides they shared, I keep reading them to make sure that I'm doing the things they mentioned. We discuss things like what investors are looking for, what they want to see and know, how to prepare your books and data. And I believe I'm ready now to speak to investors!
This online Alumni Accelerator was a pilot project, the first time we offered an add-on to the existing local incubation and acceleration programmes. Do you have any recommendations to make a next edition even better?
I'd love to do this in-person as well, that we can all meet and work on our businesses together for a week or so. Like a bootcamp, where we shut ourselves off to the entire world. When you have to do all that we've done within a week, it brightens everything, you come up with so many ideas. It really gives off a different energy, a different fire. Because if it's virtual, people will still call me during class and things come up that need to be resolved immediately. But if you're able to shut down for a week, it's easier to assimilate everything inside you. So that's the recommendation I'd make, add an in-person bootcamp next time. In-person has this magic that virtual can't create. I wasn't even part of the West Africa Deal Summit delegation for example, but I still got to explore potential collaborations with one of the Nigerian entrepreneurs when they were here.

And it'd also help if the people running the programme would come down here to understand what we do. Meet me, spend time with the people. Touch base with the businesses: see what they do, spend time at the office, understand their culture, understand how the business operates. And personally, I'd rather have multiple meetings a week than one longer meeting.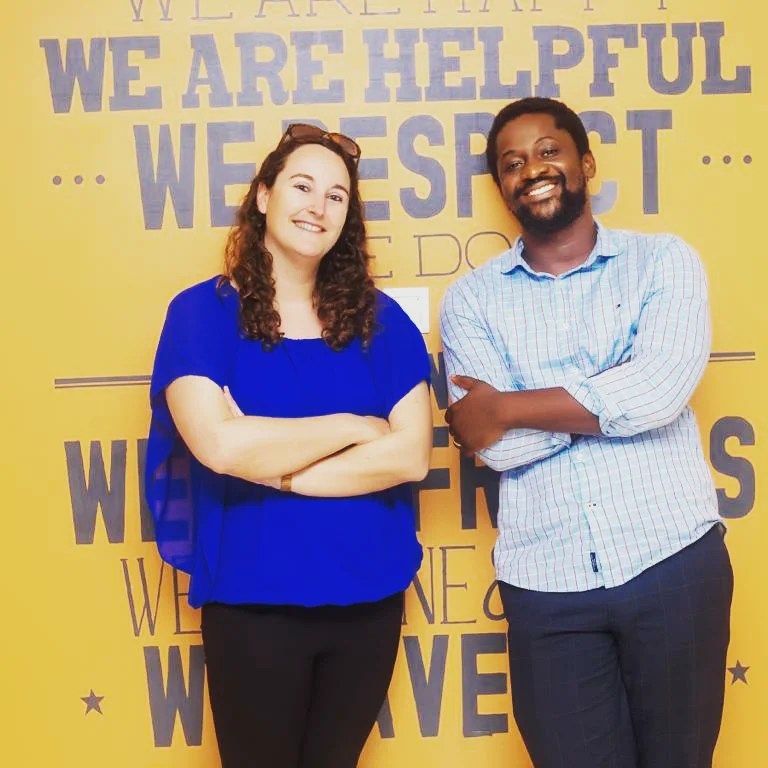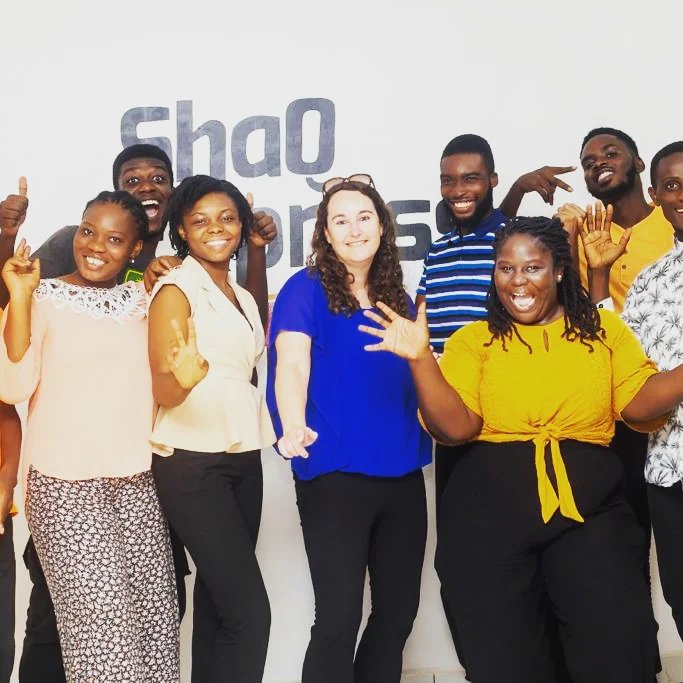 Alright, great recommendations! As we get to the end of this conversation, any last words?
ShaQ Express is a young, vibrant, ambitious company. And our only job is to give you convenience. All we seek to do is to give our users convenience. And we're working so hard to provide a swift, secure and reliable service. And we're coming out. We're growing bigger, better and stronger. So watch out!
Follow Tony's ShaQ Express online:
Website
Facebook
Instagram
Twitter
LinkedIn
YouTube