At the One Young World conference in Manchester, the Enterprise for Peace scholars reflected on the types of leaders they aspire to be. And which principles should underpin their leadership style. During an interactive workshop hosted by Voluntary Service Overseas (VSO) and the Challenge Fund for Youth Employment (CFYE), the young entrepreneurs discussed Intersectional Feminist Leadership, and the benefits this type of leadership can bring them and their companies. Feminist Leadership, characterized by 'power with' instead of 'power over' and cooperation instead of competition, can result in more conducive work environments that enable creativity and innovation. While intersectionality is about not seeing someone as just having 1 identity (man, doctor or entrepreneur) but a set of different identities that make up a person (female, 26, entrepreneur, unmarried). Taking this into account leads to better understanding and can allow companies to be more inclusive and to attract and retain a diverse group of talented people.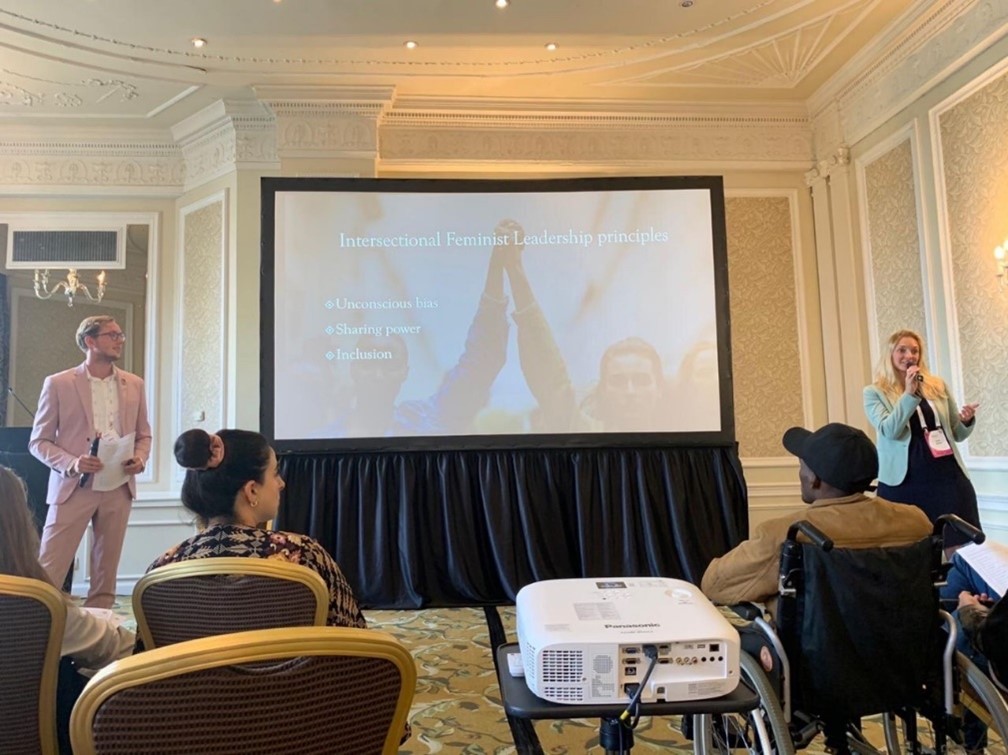 Besides benefits for the work environment and company culture, there's also a business case for Intersectional Feminist Leadership. Because a diverse team can come to a diverse set of creative innovations. Or find solutions to (wicked) problems that a uniform team might miss. It also leads to a work environment that is not only more conducive to creativity, but also one in which staff turnover is lower, productivity is higher, which can result in an increase of companies' revenue. To ensure that companies actually hire a diverse set of talents, it is essential to develop at an early stage some processes and policies that ensure attracting, selecting and retaining such a set of staff members. Where do you for example advertise your applications? On which criteria do you select candidates for an interview? And how do you ensure that people want to stay on long enough to make a productive contribution to your company? VSO and the CFYE have developed a journey by working with SMEs in the MENA, Sahel and Horn of Africa regions that assists companies in attracting, selecting and retaining in an inclusive and thought-through manner. Together we reflected on how the Enterprise for Peace scholars could incorporate this within their own businesses.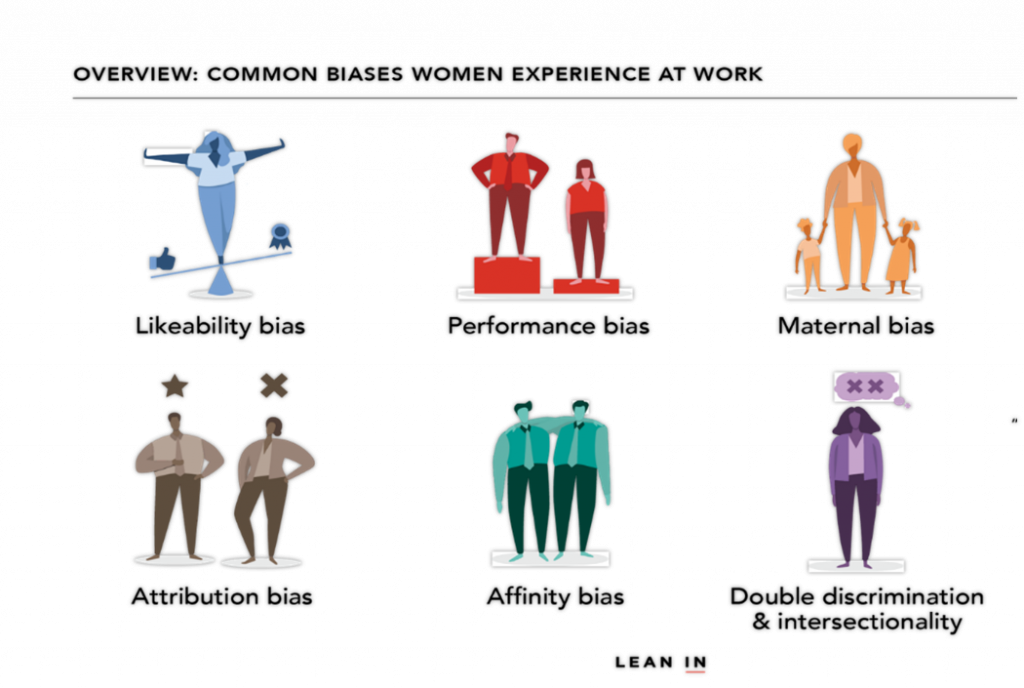 During the workshop, the entrepreneurs also reflected on unconscious biases. These can affect the way we hire, interact with colleagues, and make business decisions. For example, women may face biases like a likeability bias that is favorable to men or an attribution bias that leads to men being attributed credit for a woman's ideas (see image 1 above). Another bias that exists is around people sometime assuming that young people aren't experienced enough, or that older candidates for jobs lack the ability to still innovate. One of the exercises called 'Fresh Start' asked the participants to make a selection of 12 out of the 20 different characters listed, based on which (mix of) 12 people they found most suited to start a new society on a newly discovered island. As there was not much information about each character (shop assistant aged 19, or retired sergeant) it was not possible to do the exercise without making assumptions (often based on biases) about the people. This let everyone experience first-hand what guided them in their selection and why they brought along certain people to build this new society. Together we exchanged ideas around this and during a very open, personal and interactive session, the promising business-owners from the MENA, Sahel and Horn of Africa regions showed their willingness to reflect on themselves, grow, what might benefit their companies and on the leaders they want to be.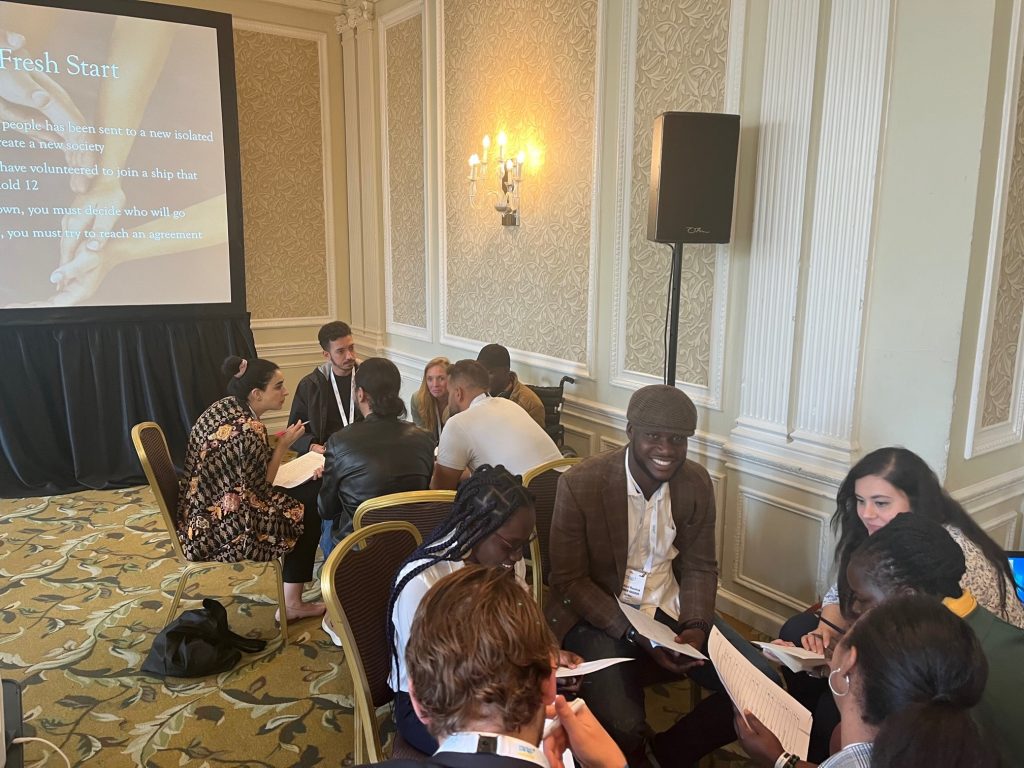 About the Enterprise for Peace Scholarship
Underemployment and the lack of employment opportunities for young people is considered as one of the most significant socio-economic and security challenges we face. The consequences for young people to build a prosperous future are far-reaching, but wider communities can also suffer from the possible effects of high levels of youth unemployment; namely poverty, violent extremism, political instability, drugs and crime. The Netherlands Ministry of Foreign Affairs (MFA) prioritises improving young people's prospects in a number of developing countries and fragile states by supporting local entrepreneurs and job creation. The MFA will collaborate with One Young World to provide scholarships for 50 delegates to participate in One Young World Munich 2020.
Orange Corners x One Young World
Orange Corners