Earlier this year we had the pleasure of welcoming a number of Orange Corners Ghana alumni to our HQ in The Hague. While they were busy checking out potential business opportunities in the Netherlands, they also made some time to talk to Orange Corners about their journeys so far. In the second interview of this two-part series, we meet Alice Frimpomaa Boateng (AFB Golden Enterprise) and Derrick Sarfo (DercolBags).
Alice and Derrick, thank you for making the time to talk to us! Shall we start with the obvious question: who are you and what does your business do?
Alice: I'm Alice Frimpomaa Boateng, a trained accountant and the Founder of Ninth September Foundation as well as the Team Lead for AFB Golden Enterprise. AFB Golden Enterprise is noted for green cosmetic products. We use mango butter, shea butter, avocado butter, rosebuds, lavender buds, castor oil and more to produce plant-based haircare and skincare products. For the production of our cosmetics, we use edible ingredients because we believe that if you don't put something in your mouth, why put it on your skin or hair! The Ninth September Foundation empowers young orphans, less privileged women and youth in our community through skills training and development, donation of groceries, toiletries and stationaries. This is funded through the sales proceeds of AFB Golden Enterprise and donations from friends, families and like-minded people who share in our vision.

Derrick: I'm Derrick Kofi Sarfo, founder and CEO of DercolBags. DercolBags is a packaging firm based in Accra with as sole mission empowering women entrepreneurs to replace using plastic packaging with eco-friendly packages for a cleaner Ghana. In Ghana, and in Accra in particular, plastic pollution has become an issue recently. So I started my business to try and provide alternative packaging to businesses in Ghana and across Africa. Alternatives that are suitable for the business, but also good for the environment.
That's lovely! What about you Alice, what inspired you to start your business?
Alice: I began my journey during the COVID-19 pandemic, with a profound loss that forever changed my life. My beloved aunt lost her battle with skin cancer. This left me devastated and searching for answers. Determined to find meaning in my aunt's passing, I embarked on a quest for knowledge, driven by a deep desire to prevent others from enduring the same pain and suffering. As I delved into knowledge finding and discovered a pattern of hair diseases, I realised that my passion for making a difference extended beyond the realm of skincare. I knew I had to create something truly special, something that would not only address the skin cancer issue but also provide natural and effective solutions for a wide range of hair concerns.

With unwavering determination, I channeled my grief and what I thought was my ancestral heritage into the creation of AFB Golden Enterprise. I dedicated myself to developing green skincare and haircare products that would revolutionise the industry. My vision was clear – to empower individuals to embrace their natural beauty while promoting overall wellness and sustainability.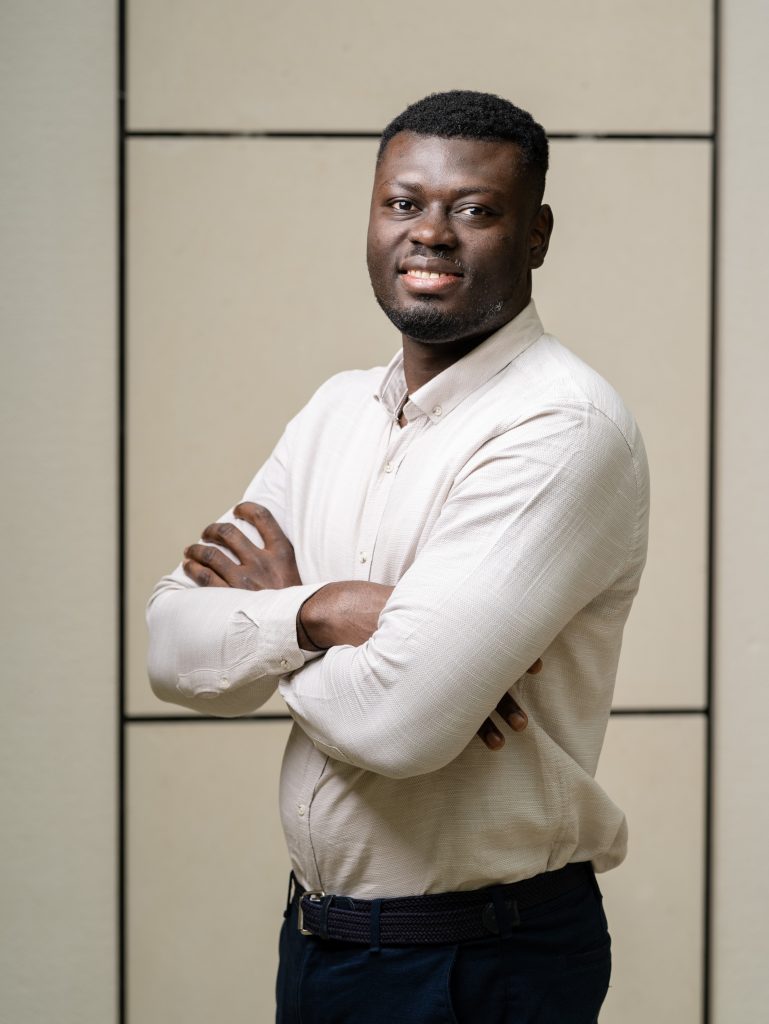 Entrepreneurs in the Netherlands as well as in Ghana face many different challenges. What do you two see as the main challenges for entrepreneurs in Ghana?
Derrick: I've been an entrepreneur for close to 8 years now. Before DercolBags, I was a freelancer in the advertising industry. For me, the challenge isn't about doing business in Ghana, it's about the support for businesses, especially young businesses or young startups. There is no strong ecosystem that supports startups.

I always tell people that if you have the opportunity to get into a program like Orange Corners or another acceleration programme, do it! I was fortunate. I had a friend who had already been through the programme and recommended it to me. Getting into the programme was like starting from scratch, how to start, run and build a business. Not many people have this opportunity. Most of us are first-generation businesses, and we don't have someone in the family or community to go to for advice. So what often happens is that you'll start from scratch and make many mistakes. And then along the way, if you're lucky you succeed. And if you're not, you collapse.

Most of the businesses I started with, they're folded up or the owners looked for employment in corporates or government institutes. They feel that offers more security. Entrepreneurship in Ghana and in West Africa, it's kind of rough, especially if you've not been trained or structured well. Especially at the beginning where you don't always know where your next order or customer will come from. If you're lucky someone will come in to support you, but mostly you have to grind yourself.
What makes you keep going?
Derrick: I started my business because of a cause and a need that I saw in my community: the need to eradicate single-use plastics, and make our environment cleaner. I remember my first year in business, we made literally no sales. Finding customers was very difficult. But even though we didn't have customers, weren't making any revenue.. what kept me going was the fact that I wanted to solve a need in my community. That passion and desire kept me going.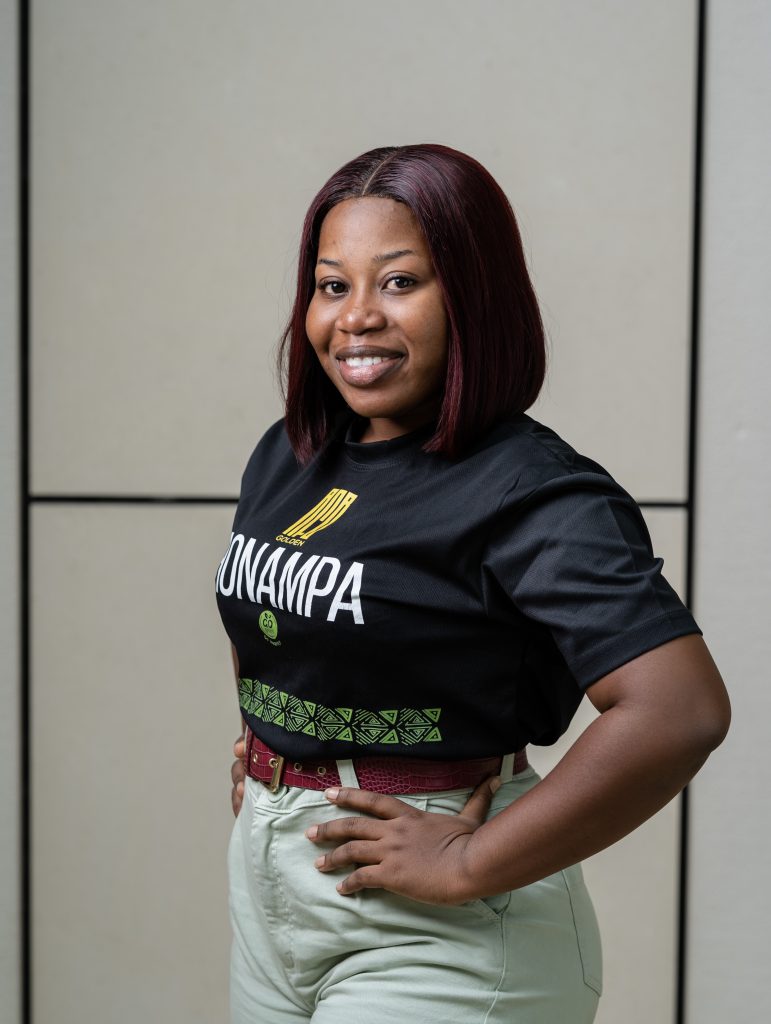 Alice, do you recognise Derrick's challenges or do you maybe have different challenges yourself?
Alice: I think one thing that runs through is that it's very difficult to access finance. Be it grants or loans. And even if you have the confidence to go for a loan, the interest rates will walk you out. Imagine having that drive to solve pressing problems, like increasing rates of skin cancer, sun burns, alopecia, thin hair etc. but limited working capital to run your business. Producing products with natural ingredients is very expensive compared to products with harsh chemicals. You need more than beautiful concept notes, established product formulas, 100% product efficiency, ethical sourcing of ingredients: you also need money to sustain the business.

And also, access to capacity building if you aren't in a great ecosystem. A critical example is the fact that I'm situated in the Eastern Region, Koforidua to be precise. If it wasn't for a friend who introduced Orange Corners to me my story would've been completely different. I'd still have been a baby trying to mope in the entrepreneurial ecosystem. I was able to match myself with the ecosystem in Accra. Because of the contents that were discussed during the trainings I had to grow up so fast as an entrepreneur. I stopped limiting myself because I was from Koforidua and not much is said about entrepreneurship there. Imagine other women entrepreneurs from the Eastern Region or other parts of Ghana who don't have access to a capacity building programmes like Orange Corners. Whatever ideas they have, may die. It's good to go bit by bit, but what result will you achieve and at what pace and time?

What is really pushing me today is the fact that I'm part of a very good network of entrepreneurs and I often get the right information at the right time. In today's world information and networks are the new currency. If not for Dennis, an Orange Corners alumnus, I wouldn't have met key industry players like Stephen (LeatherOnCall) and Tony (Shaq Express), with whom I've become good business partners. I would've also missed certain key people that have had direct impact in my life: the entrepreneurs behind Fafas Breakfast, Blackcherry, Mobena, Waakye Guy Guy.
One of the things that people might also wonder, is it different for you to do business as a woman entrepreneur? Do you face particular challenges because of that as well?
Alice: right now we have a bit of a supportive environment for women-led businesses and that sometimes goes in our favor. When you don't have that it becomes more difficult. I remember once upon a time, I won a contract. Because of my smallish stature, I looked like a baby. So when I got there, they asked me where Madam AFB was. I was like "Excuse me, I'm Alice Frimpomaa Boateng!" and they asked for my ID. It was irritating, but I also felt so fulfilled showing it. Someone who was way ahead of me thought I was too young to come sign that contract and it was so funny when he realised that I owned the company, I was there to sign in my own name.

I also enjoy competing with guys, I find fulfilment doing that. When I'm with ladies I feel like I'm fighting against my own woman, like what are we fighting for? But when I'm with a guy, I feel motivated. Like it's a free world! I enjoy it and I have won quite a number of times.
Do you also feel that competition with your fellow Orange Corners alumni?
Alice: I don't know how Orange Corners recruits their people, but the caliber of men! Somebody like Stephen (LeatherOnCall), I think from the first day of the programme we just clicked. He's always concerned about my development, he's always like 'Alice, are you on Google My Business, have you done this or that?' He's always willing to teach you something new. We have more other guys in the same ecosystem like that. They're so willing and open-minded, unlike some other guys. Maybe it has to do with the content that was discussed during the class, that that has reformed their personality!
Derrick, did you have a similarly good experience with Orange Corners?
Derrick: my experience over the years has been very wonderful as well. I was in cohort 3, but Orange Corners never leaves you. When I wanted to apply for OCIF, I couldn't do it right away, but they walked me through the process all over again, helping me get my documents and everything ready. And afterwards, anytime there's an opportunity, you have Orange Corners sending it to you first before it goes out. At Orange Corners, the support the mentors and coaches give us is awesome. They're always out there looking for opportunities for their alumni. To upgrade your skills and that of your team. My Orange Corners coach, Mr. Ernest, has been my coach since I joined. And he's still my coach. And the entire MDF team always checks on us to see how we're doing, how business is going, and what they can do to support us. Even this programme (Dutch Export Academy) and our visit to the Netherlands is part of it, they introduced some of us to it. Orange Corners always has been like home, they're very supportive. I wish I had known about Orange Corners earlier, as it would've helped accelerate my business even faster!
Follow Alice & Derrick online:
AFB Golden Enterprise
Website
Facebook
Instagram
LinkedIn

DercolBags
Website
Facebook
Instagram
Twitter
LinkedIn